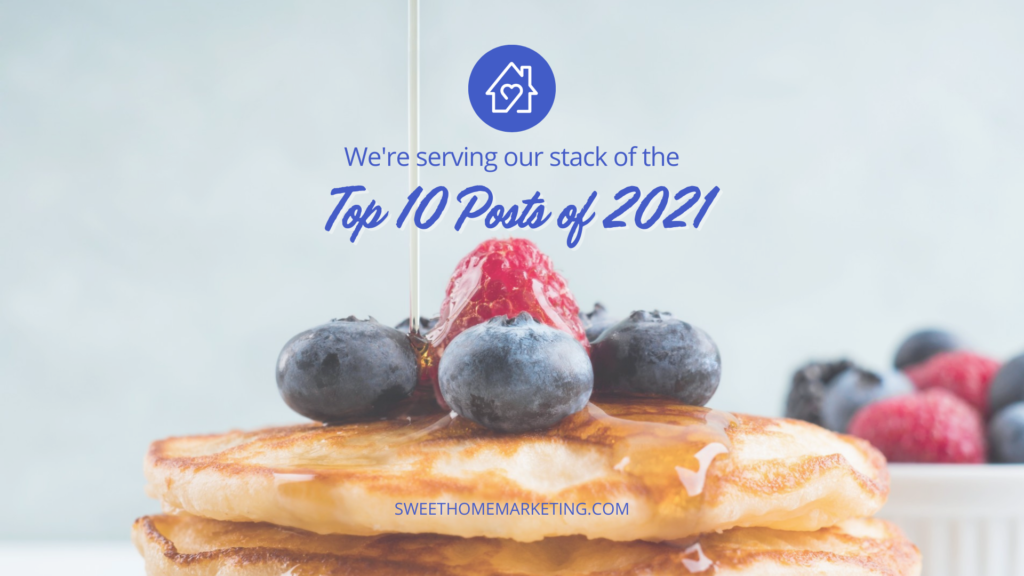 Our top posts from 2021 are determined by how many views they received from January 1st – December 31st. We published 37 articles last year, which is about three times per month.
This was about the same as years prior but there is one huge difference: this year, I was also writing a book on top of writing all of the blog articles. That's a lot of writing!
My book is titled, The Credible Brand: The Fastest Way to Capture Attention, Establish Trust, and Generate Leads for Your Business. It's for the service-based business owner who wants to learn an approach to marketing that brings all of the pieces together into one succinct strategy. We're aiming for a February 2022 launch, however, we all are familiar with how the ongoing pandemic can quickly change timelines and plans.
If you'd like to be a part of the book launch team, please click here to sign up for email updates. You'll receive access to book freebies and the juicy details about the launch.
Without further ado, here are the top posts from last year.
Our Most-Viewed Posts of 2021
This year's top blog article by far is on the topic of anniversary posts for your company. It can be challenging to know what to post – you're sharing that it's a special occasion for your business but phrasing it needs to sound excited and not obnoxious. Then there's the image in question. What graphic should we use? In this article, there are a few ideas for how to tackle all of it.
We updated this article since it continues to get a lot of attention. Many people want to know the reason behind sharing on social media. Perhaps they're looking for motivation to keep going or the "why" behind the what. Regardless, here are some reasons why you should post regularly.
As many businesses started to warm up to Instagram Reels, people were looking for ideas for how to be creative. Our ideas for businesses are a helpful source of inspiration that motivates you to jump into creating these short, entertaining videos.
Another popular post from 2020 made it into the spotlight this year. If you're looking for the hidden features of Canva, read this post. This will be updated for 2022. Click here to subscribe and receive our blog posts in your inbox because you won't miss them.
The internet is crawling with people who steal your content and don't give you any credit. Don't be one of those people! It's especially dangerous for businesses because you can easily get sued for copyright infringement. Find out more in this article.
The "rule of thirds" is a way to have your visual content be more appealing. In this article, we apply it to social media and explain that your content should fall into three categories: promoting your business, curating ideas, and engaging your followers. Here's how to implement this process.
Running low on content ideas for your social media channels? Perhaps you need some more authentic content that actually shows your team. These kinds of original posts are the best way to maximize engagement and reach for your social media channels.
Just because you've been doing things the same way for years does not mean that you should keep doing them. Back when Lindsey started in social media, it was crucial to grow an audience (increase followers) on social media. Late last year she started thinking…what if it wasn't important anymore? Here are her thoughts.
A lead magnet is a free resource that's available on your website for download in exchange for an email address. It helps convert website traffic into marketing qualified leads. Real estate agents need to be offering a lead magnet so that they can stay in contact with potential clients who have visited their website. Here are some real-world examples in the real estate industry.
(Did you know we can help you craft a lead magnet from start to finish? We'll create a strategy, suggest ideas, and you get to pick which one we create. Click here to apply for a free call with Lindsey.)
This was one of my favorite blog articles and Facebook Live events, so I'm glad it made the list of top content for 2021. Earlier this year, Lady Gaga and Oreo teamed up to create pink and green Oreos in special packages. There are many things that service-based companies can learn from this campaign. Read the article for the marketing lessons.
Conclusion
There are long-lasting benefits to publishing articles regularly on your business website. Many of the top 10 posts from 2021 that are listed above were written before 2021. That's a sign that great content will deliver website traffic for years to come, and website traffic is the first step to increasing sales. After all, customers will not buy from you if they don't know about you.
We cannot predict what will be popular from one year to the next. However, we can create and execute a content marketing plan that helps any business become a credible brand. Read about this service here.