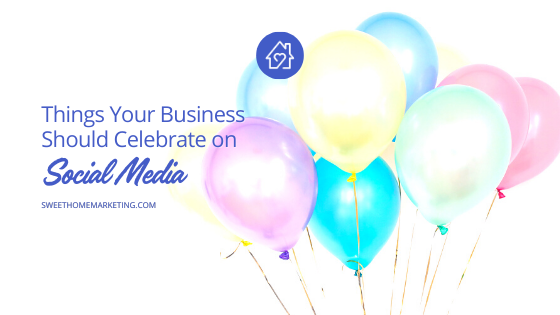 Running low on content ideas for your social media channels? For each client, we keep a spreadsheet with important dates so that we can plan and create unique posts about their business. These kinds of authentic and original posts are the best way to maximize engagement and reach for your social media channels.
Please note that you need to ask your employees if they are okay with their photo or name being used on social media. You never know what someone is going through or the reasons they have for wanting to stay behind the curtain. Respect their position and focus on the employees that do want to put themselves out there.
Share Important Company Dates
Let's start with an easy one. When did you first open your doors? What about the anniversary of hiring your first employee? Look at how far you've come since then. Talk about the struggle, the lessons learned along the way, or express your gratitude for where your company is today. Throw a party at the office and be sure to take a photo (or video or boomerang) of your current team.
For the best examples of company anniversary posts, read our blog post on Company Anniversary Post Ideas for Social Media.
Remember, one of the main reasons why people follow brands on social media is because they want to receive company news and updates.
Show-Off New Hires
It's exciting to have a new team member! Welcome them with a flattering post about why you hired them and their strengths. Did they send you a handwritten thank-you note after the interview? Ask if it's okay for you to share it on the company's social media channels. Did they say something in the interview that resonated with you? Your audience loves these types of stories and would like to hear them. Maybe they'll be inspired by the words of your new hire, too!
Celebrate Work Anniversaries
Take note of every employee's hire date and celebrate their work anniversary. Giving them a gift (like a milkshake/cupcake combo from a local treat shop like For the Love of Sweets) and take photos of the surprise gift. This kind of gesture goes a long way to making your employees feel appreciated and valued. It also makes for fun social media content.
Social Media Milestones
There's a reason why we give our clients "photo op" packages when they hit certain follower counts on Instagram. It's because these accomplishments deserve to be celebrated! Toot your horn when you hit your first 100 followers, then 500, then 1,000 followers. Cheers in celebration of your first post that went "viral," or a new client that booked via private message. Social media is a party – live it up. (In a way that fits your brand, of course.)
Conclusion
Oftentimes, you hear marketing experts say that brands need to "be more human" on social media. One of the easiest ways for all types of businesses to accomplish this goal is to publicly celebrate the important company dates, new hires, work anniversaries, and social media milestones that have made your company undeniably you.
Grab a cake and take some pics. It's time to celebrate!
Want more? Join our Facebook Group, The Credible Brand Community, and learn how to create a marketing strategy that attracts customers and produces consistent leads for your business.