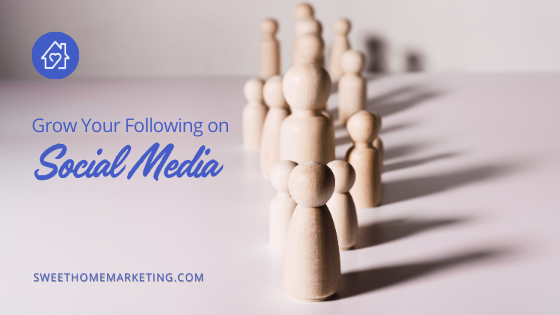 Looking to ramp up your social media following? In order to do so, it helps to understand why people follow business accounts. Then you can focus on creating more of the type of posts that please your people.
Take a look at the pages you follow on social media. Here's a link to quickly access the Facebook Pages you choose to keep tabs on. For me, the following reasons are completely accurate.
Top Reasons People Follow Brands
Recommendations from family or friends. When a post comes across your feed and you see a familiar name under the comments section, you are more likely to follow that page. It's essentially a recommendation that the page content is worth your time.

Tip: Boost the Facebook posts that do well and then invite those who engaged with your post to "like" your page.

Supporting family or friends. Have you ever had a friend start a business and invite you to follow their Facebook page? You might not be the ideal customer, but you're helping them build an online presence.

Tip: Don't be afraid to invite your friends and family to like your accounts. They are your biggest cheerleaders!

Learn about new products or services. Your customers are your greatest assets when it comes to growing your social media following.

Tip: Email your clients and ask them to follow you on social media. Include a link to your pages to ensure it's as easy as possible for them to connect with you.

Stay up to date on company news. The businesses and brands you follow are important to you. Whether the news is that the founder had their first child, or that someone was promoted, this news strengthens our bond with the brand.

Tip: Share all the good news and (some) of the bad news on your social media channels. From new babies to new ways of helping customers, it's important to share these announcements.

Promotions, discounts, or freebies. If your business provides special offers, let your social media followers be the first to know. They'll appreciate the opportunity to snag a deal.

Tip: Offer your followers early access to discounts. They'll be more excited to see your posts and eager to feel a part of your fanbase.

To be entertained. Think about why people use social media in the first place (hint: it's for fun) and what sort of posts make you the most excited. Keep in mind that every post does not need to be entertaining (other options are below). But, there are ways to make a boring post more exciting. [Related: Tips for creating more shareable content.]

Tip: Add a visual asset to your post, like a funny GIF that expresses the sentiment of the copy.

To be educated. How can you break down tips or insights so that it's easy for your audience to understand?

Tip: Jot down any stats and sources that you come across that are relevant to your business. Create graphics for social media posts using this information and expand on the stat with your insight.

To be inspired. We all need a little encouragement every once in a while. How can your business inspire the viewer to take the next step?

Tip: Think about what your client needs to hear when it comes to doing business with you. It might be tough love, or it might be more positive words of encouragement. Either way, inspire them to take action.
Conclusion
Growing your following on social media is still important (and here's a link to an article about why.) The people who choose to follow your business are warm leads. They already know your business and have made a deliberate effort to stay in touch.
You can expand your circle of influence by posting content that touches on the reasons why people choose to follow brands online: recommendations from family or friends, supporting their loved ones, learning about new products or services, staying current on company news, promotions, entertainment, education, and inspiration to name a few.
Think about how your business can provide the type of content that triggers the viewer to go from stranger to connection.
If you enjoyed reading this, please scroll down and subscribe to receive these blog posts each week. You'll receive a free copy of our latest download as a thank-you gift.