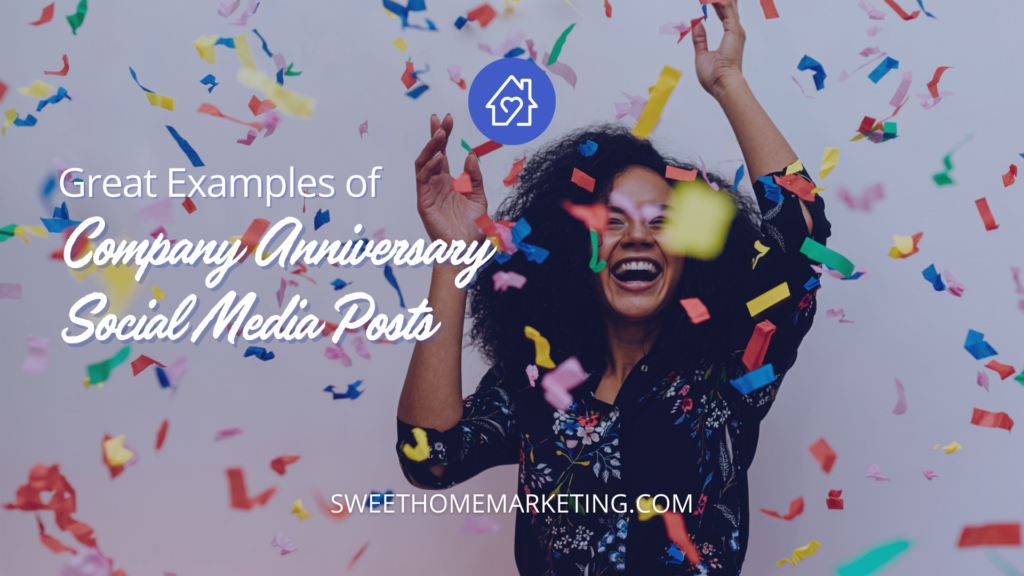 We love a good company anniversary post. How do we define good? It's a post that shows the excitement as you (and your team) celebrate this huge milestone. It provides a glimpse at your company culture and the faces of people who keep the business running. Here are a few of our favorite examples to use as inspiration for your next company anniversary social media post.
The Best Examples of Company Anniversary Posts on Social Media
Make it Rain and Celebrate Your First Year
Rivet Collective didn't let their first milestone pass them by. The company turned one and celebrated with a confetti shower on the owner. They used this milestone as an opportunity for the owner to introduce herself to the audience.
Cheers to 5 (1/2) Years with a Classy Beverage
Cindy Scott Artistry celebrated their company anniversary with a huge bash. Not only do the drinks look incredible, but this post provided a rare opportunity to meet the artist behind the most beautiful wedding paintings you have ever seen.
Receive New Blog Articles by Email
10 Year Anniversary Post with a Creative Prop
When Beauty Lounge celebrated 10 years in business, they knew that a beautiful balloon with custom gold text was needed. This gave the owner a prop to hold (which always makes photos less awkward) while she posed for the camera.
Smiling with a Glam Background
Nothing says celebration like getting glammed up. Paulette Escoe Events celebrated 15 years and used her platform to introduce and thank her business partner for being so supportive throughout her journey. The professional photo aligns with the company's brand of luxury and stylishness.
100 Years in Business with a Jaw-Dropping Cake
Zuidema Portable Toilets celebrated their 100th anniversary and used their Instagram account to provide party highlights. The most captivating photo was of the detailed cake – complete with a septic truck and portable toilet.
Conclusion
It can be a challenge to think of a creative idea for your company's anniversary post on social media. The best decision is to have a photo of the team or the business owner with a caption explaining the milestone because it humanizes your company. Purchasing a prop, whether it be a balloon, cake, fancy drink, or confetti, will make it easier for your photo subject to feel comfortable.
For more tips on creating an Approachable Brand on social media, join our Facebook Group, The Credible Brand: Online Marketing for Service-Based Businesses. Learn how social media can help you generate qualified leads and expedite sales for your business.