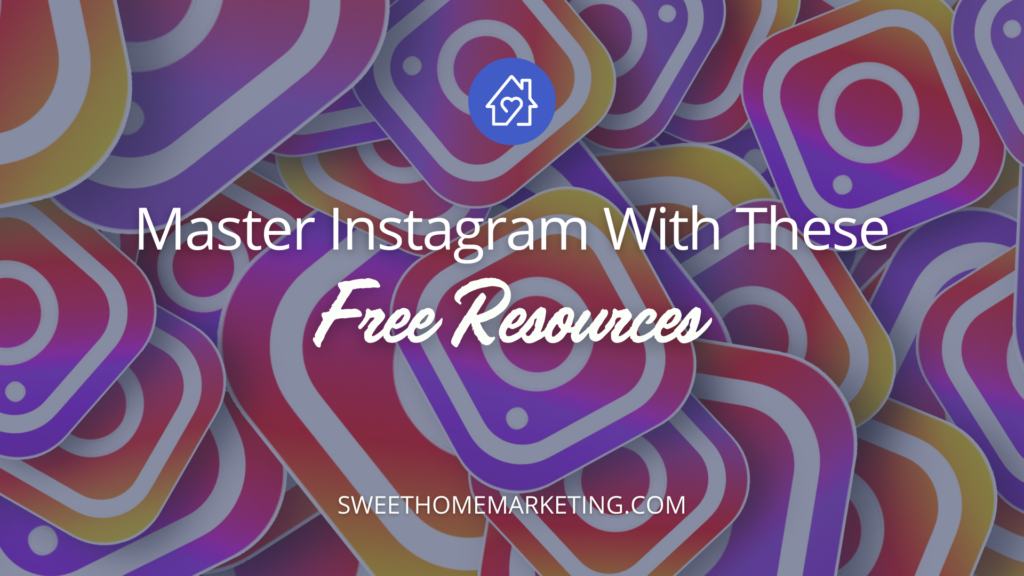 Are you looking to master Instagram but you aren't sure where to start? There are a lot of free resources out there and we've compiled a list of our favorites. Keep reading to find out more about Reels, Hashtags, and more.
With nearly a billion monthly active users on Instagram, the platform offers something for consumers and brands alike. The image-focused social media site offers people the chance to post and share pictures and short videos with their friends and followers, encouraging engagement and building connections. Click here to read about the social media basics that you wish you knew sooner.
For those just getting started with Instagram, it can feel overwhelming to jump right in. We've organized a list of interesting, free resources to help you learn what you need to know about succeeding on Instagram.
Free Resources to Master Instagram
Before you get started on special features, here is a video to help you get started understanding the platform.
How to Use Instagram: Beginner's Guide (video above)
Instagram Reels
Instagram Reels were designed to serve as competition for other popular platforms that allow users to send and share short videos of themselves. With Reels, you can create 15-second videos and include a variety of special effects and stickers to make them even more interesting and unique. They can then be uploaded to your feed for others to enjoy. This feature is available in 50 different countries and works for both iOS and Android operating systems.
You can learn more through:
The Ultimate Guide to Instagram Reels
11 Instagram Reels Ideas for Businesses
Here's How to Use Instagram Reels (video above)
Instagram Hashtags
Instagram Hashtags are an element that Instagram has in common with other social platforms, such as Twitter. On Instagram, however, they can boost your engagement by 12.6 percent, making it a good idea to employ them as you create your posts. The hashtags are designed to group content together based on common topics so that people can easily find new interesting posts based on topics that interest them.
You can learn more through:
The Ultimate Guide to Instagram Hashtags
The Ultimate Guide to Instagram Hashtags in 2021
Instagram Highlights
Your Instagram Highlights appear below your biography and personal or brand information on your profile. These featured highlights live permanently on your profile, as opposed to stories that will disappear after 24 hours. The purpose of these highlights is to help capture your brand, so this provides you with an excellent way to introduce new visitors to what your page is all about.
Learn more here:
How to Use Instagram Highlights (video above)
Maximize Your Impact with Instagram Story Highlights
Instagram Story Highlights: Everything You Need to Know
Instagram Stories
Over 250 million people use Instagram Stories every day, clearly demonstrating how popular it is for users. With a story, you can take several pictures and join them together to create a video slideshow. These stories can then be sent to other users that you want to make sure can see your creation. The stories you create do disappear at the end of the day.
You can learn more about Instagram stories here:
How to Use Instagram Stories to Build Your Audience
The Ultimate Guide to Instagram Stories
3 Reasons Instagram Stories Could be the Secret to Social Media Success
Instagram Feed Posts
Your Instagram Feed Posts are the photos and videos that you post. This content will then show up in the feeds of your followers. They will also appear in the feeds of people following or looking for content pertaining to a particular hashtag. Therefore, creating appealing posts can help you attract more followers. The posts that appear on a given person's feed are determined by the Instagram algorithm.
Learn more about Instagram Feed Posts and the Instagram Algorithm here:
This is How the Instagram Algorithm Works in 2021
The 2021 Instagram Algorithm Breakdown
Instagram Explore Tab
The Explore Tab helps users on Instagram find interesting new content that they might find interesting. The algorithm used for the Explore Tab continues to evolve as the platform looks for new ways to pair people with content they will appreciate. This offers brands an excellent opportunity to build their brand following and attract attention.
Learn about the Instagram Explore feature here:
Instagram Adds Stores to Explore Tab: Here's How to Get on It
How to Get on Instagram Explore Page
Instagram Geotagging
Instagram Geotagging allows users to pin locations to specific images they post so that people can see where the image was taken. It also helps people connect with others in their area or search by locations and find interesting posts from their region. For example, you could use this feature to connect with people attending an event you host.
Learn more about Instagram Geotagging here:
5 Effective Tips on How to Increase Your Reach on Instagram with Geotags
How to Geotag Your Instagram Posts in 2021 (video above)
As you begin your Instagram journey, these free resources will help you master Instagram. Get the most out of the platform and see how useful it can be for finding followers and engaging with people across the social media platform! See how you can use social media to grow your audience.
Do you have a resource to add to the list? Or would you like additional help? Join our free Facebook Group, The Credible Brand: Online Marketing for Service-Based Businesses, and post questions, get thoughtful responses and find out how you can use social media to attract customers.