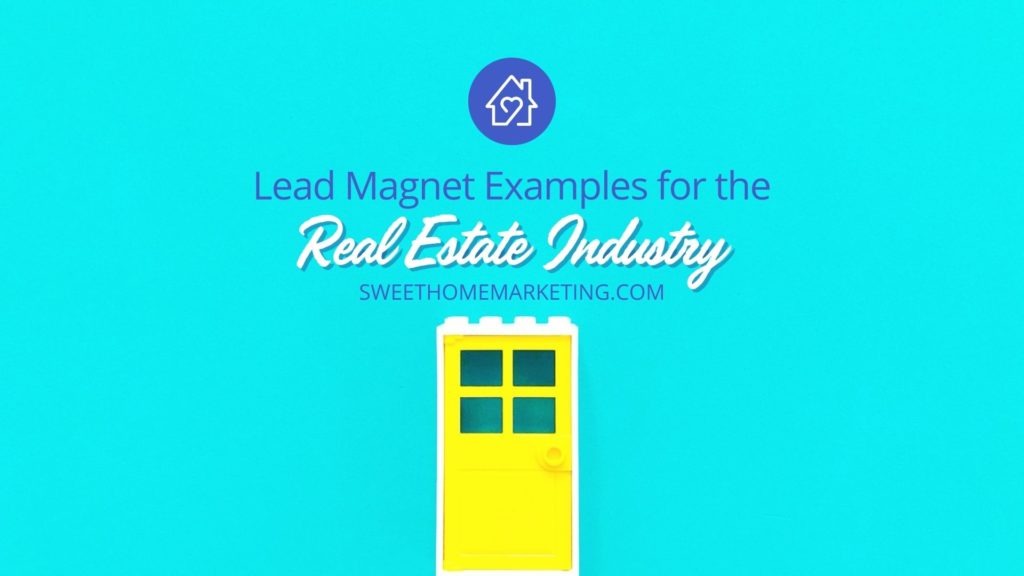 If you're a real estate agent looking for examples of lead magnets for your business, you've come to the right place. Real estate agents know the importance of getting in front of potential clients when they're ready to start the process of buying or selling their homes.
A lead magnet is a free resource available for download on your website. It helps you convert a portion of website traffic into valuable leads. In this article, we're sharing the best free resources that we've found in the real estate industry so that you can leave feeling inspired and ready to create your own.
Do you need help knowing what to post on social media? Download our Social Media Graphics and Prompts for real estate agents! Produce high-quality content and attract the right customers with this package.
Quick Reminder for Real Estate Agents
The purpose of a lead magnet is to educate the website visitor. Although it might be tempting, do NOT contact people directly just because they downloaded your lead magnet. Nurture them – meaning, add them to your invite list for relevant events or include them in your newsletter distribution. Invite them to "like" your Facebook or Instagram page. They are most likely not ready to buy and need to be warmed up before agreeing to work with you. Only about 25% of leads are ready to advance to sales (Source).
Real Estate Industry Lead Magnets
Free Guide: How to Win a Bidding War
If you're an expert negotiator, lean into your strengths and create a resource that explains your strategy. (No, you don't have to give away all your secrets.) Reassure your website visitors that it's a good decision to work with you by providing a taste of what they can expect. If they want their dream home and there are already several offers on the table, how will you help them stand out?
This resource was created by Dotloop, a real estate transaction management solution. While it's great for inspiration, real estate agents should try to connect this topic to something unique about them. For example, "Everything We've Learned About How to Win Bidding Wars in 2021."
Open House Checklist for Home Sellers
This free resource is offered by a professional organizer and it's a great idea for a lead magnet for the real estate professional. Someone who is looking into selling their home–especially a first-time home seller–might want to know the expectations for open houses and showings. You can put your own spin on it by sharing your expertise and explaining any differences that happen in your local market.
Equity Estimator
What I love about this one is the button – "See how much money you'll make." That is really enticing! It implies that the tool will calculate the value of the property, subtract the remaining mortgage, real estate agent fees, and any other expenses associated with a sale so that you know how much money is in your pocket at the end of the day.
However, after you click on the button, it's clear that this isn't actually a tool; a real estate agent is going to call you directly. That will prevent a lot of website visitors from completing the form. A better implementation would be an actual calculator tool where the website visitor can enter the information and see for themselves how much money they can walk away with. Then, the agency could offer a "free guide" to getting top dollar for their property in the local market, in exchange for an email address and name.
Free Evaluation: What's My Home Worth?
This isn't a traditional lead magnet, but it is a way to get the website visitor to complete a form in exchange for free information. They start by explaining why Zestimates are not always accurate or reliable, establishing themselves as an authority for evaluating your home's worth. Visit the page here.
Free Download: The Essential Guide for First-Time Home Buyers
What I like about this lead magnet is that it targets a specific audience: first-time home buyers. If you tend to have more clients who are first-time home buyers, then this could be a great topic for you. My suggestion would be to make it more specific to your local market because otherwise, you'll likely get email subscribers who will never become a client because they live too far away. An example would be, 5 Tips for First-Time Home Buyers in Frederick, MD. [Resource here.]
Conclusion
As you can see, there are a lot of options for lead magnets in the real estate industry. To create an enticing resource, make sure that you focus on your local market, your strengths, and your knowledge as a real estate agent. The lead magnets listed above provide inspiration for real estate agents to create something valuable for website visitors and convert them into leads.
Let's create an enticing lead magnet for your real estate agency.  Book your free call with Lindsey to determine if we're a good fit.