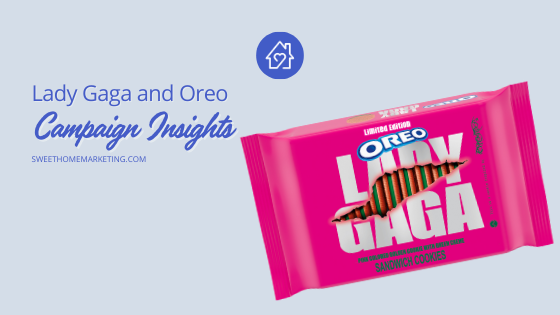 In case you missed it, Oreo partnered with Lady Gaga to bring special edition cookies to stores. The golden Oreos have been transformed into pink cookies with green filling with embossed designs inspired by the "Chromatica" album she released last spring. In this article, we'll discuss the ways this campaign stood out and how you can apply it to your next launch.
After a necessary taste test, I can confirm that they taste the same as regular golden Oreos. It's as if someone gave the boring-looking cookie a trendy makeover but it's still the same kind-hearted soul on the inside. They look like someone you would want to hang out with at a party because they seem exciting. (Maybe that's why they are going for $12/pack online?!)
Marketing Lessons from the Oreo and Lady Gaga Collaboration
There is a LOT going on with this campaign. Let's unpack it and talk about what you, as a service-based business, can learn from it. If you prefer to watch this analysis, here's the Facebook Live.
Don't wait to come up with new ideas for marketing.
Oreo is consistently ranked as the top-selling cookie in the United States, but that doesn't stop Nabisco from experimenting with new flavors and partnerships for the brand. Being at the top today does not guarantee that you'll be there tomorrow. Never get too comfortable.
Start with a smaller launch to build interest.
These special edition Oreos were initially released as individual 6-packs. The larger pink package came later. While we're unsure of the official reasons for this, it could be because they were teasing the launch of the larger packs to drive up sales once they were available. By drumming up excitement with the snack packs, they knew they could expect more people to pay attention and purchase the bigger packs when released.
Show appreciation for your biggest fans.
The first 1,000 people who signed up through this landing page were sent a free pack of the special edition Oreos. Lady Gaga's marketing team probably sent a message out to her email list to encourage recipients to be a part of the exclusive giveaway. That's one of the benefits of receiving emails from your favorite brands. [Related: 8 Reasons Why People Follow Businesses on Social Media]
Cross-promote on all relevant real estate.
Oreo added a record player design on regular packages of Oreos that mentioned the partnership and encouraged customers to visit singitwithoreo.com. This allows the brand to have a more successful campaign because you're reaching a wider audience — those folks who want regular Oreos.
Conclusion
Teaming up with the right influencer can do wonders for your brand. They don't have to be a multi-million dollar pop star like Lady Gaga. It can be someone who has a strong following or is a local celebrity. Identify your goal for partnering with an influencer (ex. reach a younger audience) and then create a list of people who could help you achieve that goal.
The Lady Gaga and Oreo partnership can be broken down into several key lessons for any brand: don't get too comfortable at the top, tease a launch to generate more interest, appreciate your top customers, and use all available platforms to promote your campaign.
Join our Facebook Group, The Credible Brand: Online Marketing for Service-Based Businesses if you have any questions on this topic. In this private group, I'll teach you how to create a marketing strategy that attracts customers and produces consistent leads for your business.
For those of you who said they can't picture Lady Gaga binging Oreos, below is her Instagram announcement of the partnership.