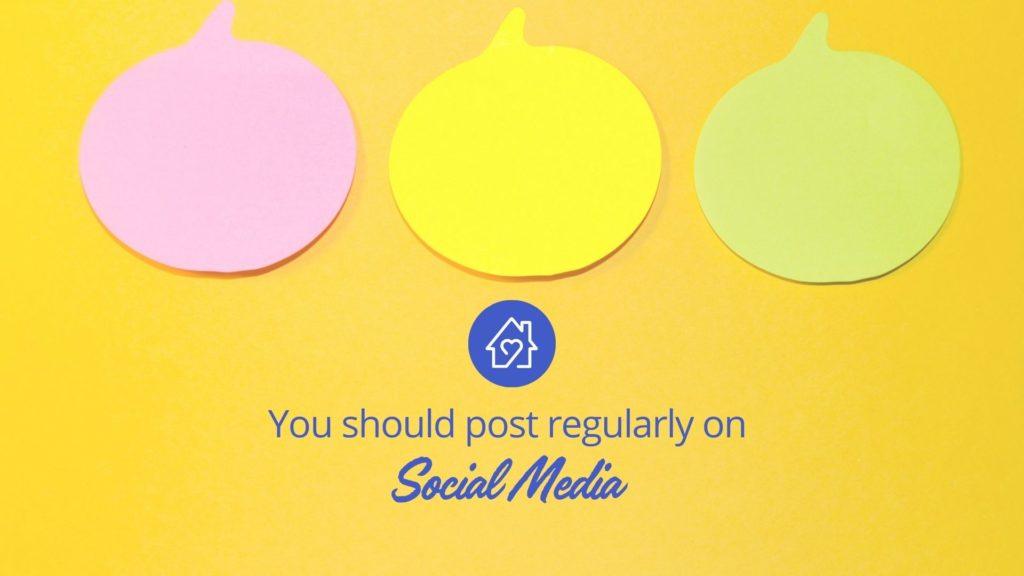 Posting regularly on social media is important because it helps your business stay top-of-mind to customers. You are more likely to generate leads using social media when you are memorable.
When we say "regularly" we mean sharing several times a week. We refrained from using the word "consistent" because that implies that you're doing it every single Tuesday at the same time. It's more important to post regularly than post consistently.
Let's take a look at the many ways that posting regularly on social media is beneficial to your marketing efforts:
Why Is Regular Posting on Social Media Important?
#1 – Increased Brand Awareness
As we mentioned earlier, posting on social media makes you more visible and memorable to potential customers. By posting regularly, you make sure that your customers see more of you.
#2 – More Opportunities to Rank in Search Engine Results
Dominate the search engine results for your brand by sharing fresh content on your social media accounts like Facebook and Instagram. Search engines will index these pages and display them when someone is searching for relevant content.
#3 – Better Conversion Rates
Every single one of the posts you make on social media can entice potential customers to buy something from you. By posting regularly and increasing your visibility, you gain more chances to improve your overall conversion rates.
#4 – Encourages Brand Loyalty
Show how your business gives back to the community or celebrate that new hire. These milestones are one of the reasons why people follow business accounts on social media. By letting them get to know you and your employees, you're strengthening a relationship that will last for years to come.
#5 – Improves Knowledge of Your Customers
Another useful aspect of social media marketing is how it helps you learn about your customers. By posting regularly, you can gain further insights into what kind of posts work and which don't, which helps indicate what topics your ideal client is interested in the most.
#6 – Metrics are More Accurate
If you are posting regularly, you can evaluate what works and what doesn't. Perhaps you receive more engagement when you post four times per week instead of two, or maybe you added 10 new followers because of a limited-time offer. These are things that are easier to catch when you post regularly.
#7 – Improves Customer Satisfaction
A handful of your customers will prefer to communicate through social media; whether it's a complaint, a compliment, or a comment. By posting regularly, you're showing your customers that you are active and ready to help. (Make sure you reply to these messages!)
How Often to Post on Social Media
Now that you know how vital regular posting is, it's time to tell you how often you should do it. Keep in mind this is very general information and will vary based on your industry and audience. Check out this article from Hootsuite for the most up-to-date advice on how often to post.
Facebook – One time per day at least three times per week is the optimal amount. The exact time depends on your target audience and when they are most active on Facebook.
Twitter – Five to ten times a day. Most users on Twitter are active between 8 am and 4 pm, so you should schedule your posts between those hours.
LinkedIn – Once per day, Monday through Friday – the best time to post on LinkedIn is in the morning, typically between 10 am and 11 am.
Instagram – One to two times per day, every day. OR, you could focus on engaging with other accounts for about 15 minutes/day and you won't need to post as often to see results.
YouTube – It doesn't matter how often you post on YouTube. What matters on YouTube is consistency. The best time to upload videos is on Thursdays and Fridays between 12 pm and 3 pm for the time zone where most of your subscribers are.
Pinterest – Five to 30 pins per day, most days. The more pins you pin, the better.
Conclusion
It's important to post regularly on social media so that your followers are reminded of your services. It means more opportunities for leads! They also get to know you better and can be educated about problems they weren't aware of.
We created Social Media Graphics and Prompts for various industries so that you can easily share your expertise with the world. Visit our shop to browse these digital packages. If you don't see your industry, please submit a request using the contact form.