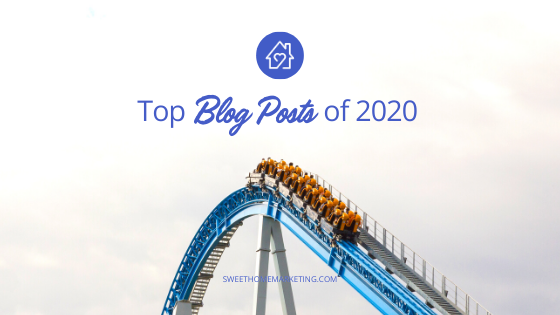 We are so happy to have hit a new milestone – over 7,900 readers in 2020. Thank you for being here. We decided to do a roundup of our top posts from last year as a way to celebrate and close out the year. Each title links to the complete version of the blog post in case you are interested in reading more on the subject. Enjoy!
Popular Posts from 2020
Back in February, I realized that a lot of folks didn't understand why they should be posting consistently on social media. The important thing to understand is that posting regularly is NOT the same thing as posting constantly.
In this nail biter, I listed a few of the benefits to posting consistently and then dive into a rough idea of what you should aim for on each platform.
This year, Canva added text effects like circular text and shadow options. These have been extremely helpful in creating professional-looking graphics and are some of my favorite tools in the toolbox.
There's a lot more to Canva than meets the eye. Check out this list of some features that you can use to make your graphics stand out on social media feeds.
Who could forget the beginning of the pandemic, when we were all baking bread and bonding over Tiger King? (Looking back, this documentary might have been the least crazy thing that happened that year.)
After watching the addicting series, I had to come up with a post that highlighted a few lessons. The first one is, "if it's not your strength, outsource it." Those who watched the show are aware that Joe Exotic created music videos where he was, in fact, lip-syncing the lyrics.
What can you outsource in 2020 that will help you achieve success?
Facebook officially added hashtag functionality on the social media platform and while it's a bit messy right now, I have some ideas for how it will improve. Take a look at this post if you're interested in getting ahead of the game and want to start working on your Facebook hashtag strategy.
Posts from Previous Years that Generated a Lot of Traffic in 2020
This post was originally written in 2018 and it continues to generate the most traffic to my website. That's the power of blogging! You create something once and it's the gift that keeps on giving.
This post is about how you should balance your content on social media. Your posts should fall into at least one of three buckets:
Promotion
Content Curation
Engage Followers
By balancing these buckets, you're able to reach more potential customers without bombarding them with sales messages. You're building a relationship.
It makes me smile to see this one getting more traction because that means there is increased awareness of content theft. When someone has an original idea for a graphic, meme, or any other kind of content asset, they deserve to be credited. It was their idea. It was their time spent creating the drawing or image.
Don't crop out the creator's handle, name, or website information.
Ask the original poster if you have permission to repost.
Tag the original poster in your repost.
If you are a social media manager and you are stealing other people's ideas and work, you need to find another job because your lack of creativity and honesty is astounding.
We love to see posts from previous years taking a top spot. When you add a blog strategy to your marketing mix, you're able to produce results for years to come. What other marketing efforts can do the same?
Conclusion
Last year we surpassed 7,000 blog readers! Please be sure to subscribe if you'd like to receive posts via email each week. You'll receive a free guide, 3 Social Media Tools Worth Paying For, if you enter your email address below.