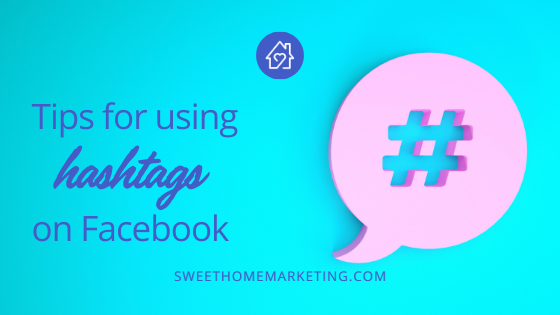 Facebook hashtags have been around for years but never really caught on. With a few exceptions, there didn't seem to be a purpose for them. Now, as Facebook takes steps to further integrate its social media platforms (Instagram, Messenger, WhatsApp, and Facebook) hashtags are becoming more prevalent.
Okay, backup. What are hashtags?
A few months ago, Facebook announced that hashtags would play a bigger role in finding and promoting posts on the platform. Here's how the company explains it:
Hashtags turn topics and phrases into clickable links in posts on your profile or Page. When people click a hashtag or search for a hashtag, they'll see results that contain the hashtag so they can learn more about topics that interest them.
To create a hashtag, all you do is put the pound sign/number sign (#) in front of a word or phrase. Don't use punctuation or spaces. And voila – a hashtag (or a #hashtag) is born.
The Confusion Remains
Like most things, businesses can make an announcement about a feature or update and how they would like people to use it. But in the end, its use is up to people on the platform. (Remember the Segway? Didn't exactly take off as expected.)
Are people going to use Facebook as a search engine? That seems to be what Facebook is betting on. I can see that happening.
Do people know to type in a hashtag in the search box if they want to see a particular topic? Only time will tell with this one, but I know that I'll be using this functionality.
Will they create a "follow" button for hashtags? I expect they're going to do this soon. It just doesn't make sense to have to enter the hashtag every time I want to find relevant information on that topic.
Hashtag Post Page Feeds
My biggest frustration with this new feature is how the hashtag post page feed is sorted. It seems to be a separate algorithm that takes the engagement rate (how many people react to your post or comment on it) into account and your personal connections.
There's no way to customize what you're looking at and it's not chronological. (Go ahead and look at an example here.) I'm expecting they'll be doing updates here soon but if you want to get more eyeballs on your content by using hashtags, then it doesn't actually seem beneficial to use hashtags that are the most popular because the bigger brands or people with more engagement will be soaking up the top results.
That means the businesses that will see the biggest impact in using the most popular hashtags will, in fact, be the businesses that already have the visibility or have paid for the visibility. Bummer.
Here's an example below. Even though "1.3M people" are posting about this, the first post you see is from September 24th and happens to be one of my personal connections.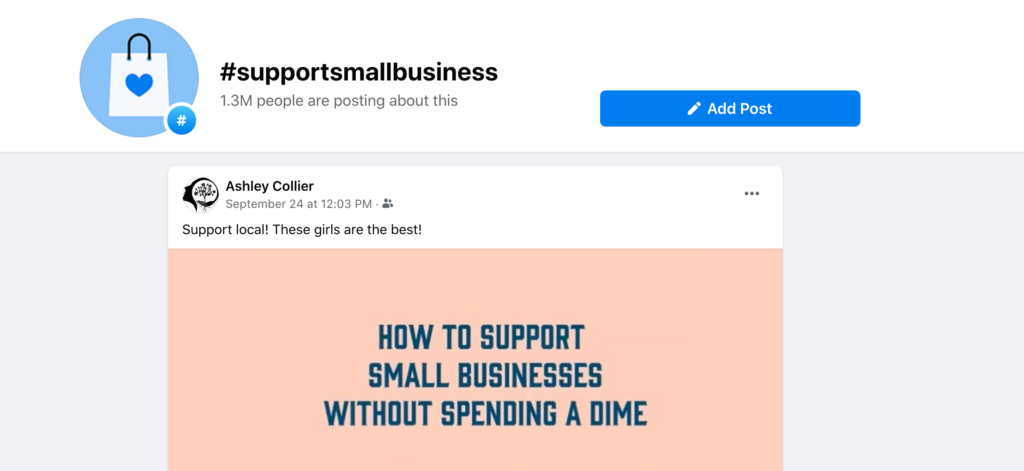 The only folks who really know what's behind this algorithm is the Facebook team. Go ahead and test, using big broad hashtags and small ones. See what your insights data looks like and take it from there.
All that being said, here's my recommendation.
My understanding is that this is work in progress, which means let's start testing things and see if it makes a difference in the metrics. As they do updates to the sorting of the hashtag post page feeds, I fully expect that people will be able to follow a hashtag and have different options for sorting.
Let's start posting as if it's already happened. Perhaps there will be a benefit to jumping in early. At the very least, you're developing a habit that will serve you well after these updates are in effect.
Here are a few ideas for hashtag strategy. You don't have to do them all.
Create Custom Hashtag for Your Business
This was something that I recommended before this latest announcement from Facebook because it helps build your brand. Viewers could easily click on your hashtag and see a stream of posts related to your business. This works particularly well if you have multiple accounts or if you use some sort of combination of business page and your personal page for business. (Just make sure your account settings for those posts are set to public!)
Finding Hashtags for Your Business
There are three main ways you can find hashtags that are relevant for your business.
#1 – Take an Educated Guess. It's probably pretty safe to say that since I'm in the marketing industry, I could use the hashtag #marketing and not run into any issues.
#2 – Search Instagram. The platform has used hashtags since birth. You can use it as a catalog for browsing hashtags that would work for your business.
# 3 – Browse Facebook. They've added suggestions when you're typing into the search box, so a search for #financial provides a list of recommendations including #financialeducation and #financialservices.
Best Practices Right Now
If you read the details of the Facebook announcement, they are really trying to encourage hashtag use to engage with your audience. For example, they want you to use hashtags to source questions and answers, or create "challenges" where your audience can participate.
But I find one huge problem with that idea: privacy settings.
Most people on Facebook have their post settings set to private or friends only. That means, if they follow your instructions for a campaign and use your requested hashtag to ask a question then you might not even see it. (And they probably won't even know that you didn't see it, they'll just think you're ignoring them.)
Plus…how will you see all the posts with the hashtag unless it's a custom or branded one? As we mentioned earlier, the hashtag page feed doesn't offer any sorting options!
My recommendation.
Browse related hashtags and comment with your business page profile on topics pertaining to your business.
Local businesses can expand their reach by using location hashtags like #Frederick or #FrederickMD.
Add 1-3 hashtags to the bottom of each Facebook post so that you don't look spammy. You can also incorporate the hashtag into your sentences so that it looks more conversational.
Like any platform, make sure hashtags are relevant in some way or another.
We'll be posting more about Facebook hashtag strategy as new information arises. Follow us on Facebook or subscribe to our weekly newsletter by scrolling to the bottom of this page.
Conclusion
This was the longest post that I've written in a while! I guess Facebook hashtags hit a nerve.
Right now the biggest advice is to test and experiment. Then look at your engagement rate and impressions/reach to see if you can identify any correlation between the hashtags you used on posts and an increase in visibility.
Have you tried hashtags on Facebook yet? Notice anything? Would love to hear from you. Comment on our Facebook post.
We love creating and promoting meaningful content for our clients, and we handle the hashtags for you! We work behind the scenes and let you shine. Would you like to work together? Please click here to complete the form and schedule a free 30-minute consultation.
Want more tips for generating leads with your company blog? Download our free guide, 6 Company Blogging Rules to Immediately Implement to Drive Website Traffic, Generate Leads, and Build a Powerful Brand.