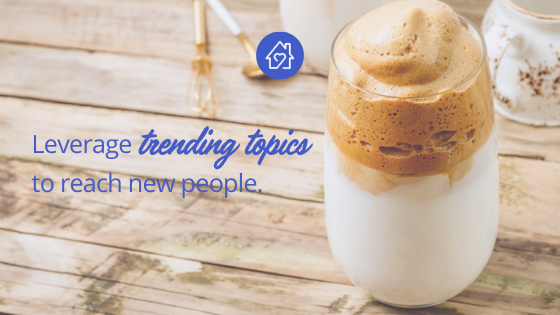 Leveraging trends are a great way to generate more exposure for your business. If you're trying to create a content calendar and you have writer's block then consider taking a look at trending topics for inspiration.
Google Trends is a free resource that helps you identify what's popular right now so that you can then create relevant content. Here are two ways you can use it for identifying blog article topics.
Browse the 'Recently Trending' Section
Scroll down to the "recently trending" section. Do you notice a theme in the searches? Perhaps there's a general theme you can leverage.
Click on each trending topic and find out why it's trending. Here are a few ideas for service businesses based on today's trending topics.
Trend: Gigi Hadid and Zayn Welcome Daughter
Financial Services Firm Example: How Gigi Hadid and Zayn Can Prepare for Their Daughter's Education Starting Today

Trend: Dancing with the Stars 2020 – Who Got Eliminated?
Architecture Firm Example: 5 Incredible Things About the 'Dancing with the Stars' Stage and Structure

Trend: Enola Homes (new Netflix release)
Law Firm Example: 10 Laws that were Broken in the First 60 Seconds of Enola Homes
It goes without saying that the content ideas you come up with should align with your overall content marketing plan and the tone of voice of your brand. These are general examples of brainstorming content ideas using Google Trends as a tool.
Conduct a Keyword Search
Enter a keyword that is relevant to your business. Browse the 'related topics' and 'related queries' sections for ideas.
Keyword: 529 Account
Content Ideas from this Search: How to Setup a 529 Account for a Grandchild, Everything You Should Know About a 529, The Differences Between a Custodial Account and a 529
Keyword: Residential Architecture
Content Ideas from this Search: Our Best Examples of Residential Architecture Design, Components of Superior Residential Architecture Design, The Key Differences in U.S. Architecture Style from the 1900's to Now
Keyword: Divorce
Content Ideas from this Search: Divorce During COVID – Here's the Process, What We Can Learn From These Celebrity Divorces, Same-Sex Couple Divorce Rates
You might find that you have to try a few different keywords before you find one that has enough data. Keep in mind that the tool defaults to worldwide searches and it might be beneficial to select the USA-only depending on your business.
Conclusion
It can be difficult to come up with new ideas for blog articles or social media content all the time. That's why it's important to leverage trending topics to create something new and exciting.
There are two ways you can use Google Trends. First, you can browse the general "trending topics" section and see what themes you can piggyback. Second, you can type in a keyword that you want to rank or be recognized for and then explore what comes up.
By identifying trending topics and writing your expertise in a different way, you're able to create more buzz for your business and set yourself apart from your competitors.
We love creating and promoting meaningful content for our clients, and we handle the trending topics for you! We work behind the scenes and let you shine. Would you like to work together? Please click here to complete the form and schedule a free 30-minute consultation.
Want more tips for generating leads with your company blog? Download our free guide, 6 Company Blogging Rules to Immediately Implement to Drive Website Traffic, Generate Leads, and Build a Powerful Brand.