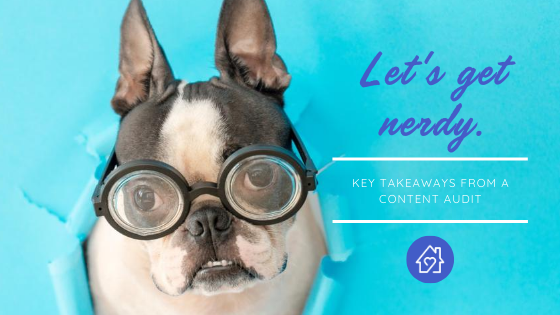 A content audit means evaluating everything you've created and identifying opportunities to make it even better. You might find an old gem that would be perfect to include in an upcoming email campaign with a little polishing. We recently conducted an audit of our own content. Here's what we learned.
Content Audit Adjustments
Auditing your content is a great project, but you need to make changes based on that analysis in order for it to be worth the time and effort. Here are a few tweaks we made to our content so that we can provide an improved reader experience.
Changed categories so that they align with our mission.
The audit started because I was tired of seeing blog posts being marked as "uncategorized." How could we set up the categories so that they made sense to my team and to readers? I dug deeper.
It seems we were creating categories based on the topic of the post instead of the other way around. For example, a post about How to Define Your Brand Voice and Elevate Your Business was filed under "writing" instead of "content creation."
Our final buckets were: Content Strategy, Content Creation, Content Promotion, Content Analytics, and About Sweet Home Marketing for promotional posts. (Here's an example of a promotional post: Why We Offer a Range of Posts Per Month.)
Every blog post was moved into one of these categories. If it didn't fit, it was switched into a draft mode for further review.
Marked posts that need an update.
When I started my business, I was focused on marketing plans and consulting for local businesses. Now that we are a done-for-you content marketing agency, some of these posts like 7 Reasons to Start with a Marketing Plan need to be updated so that it has more of a content marketing focus and therefore relevant to my business again.
Everything is constantly changing. Another post we found that needs a good update is this one on 5 Must-Have Facebook Apps for Small Business Owners. At the time this post was written, the purpose of Creator Studio was unclear and Workplace was brand new. It did generate a chunk of traffic to our website and could be helpful again, so we would like to update the post instead of trashing it.
Identified missed content opportunities.
Now that we're a full-service content marketing agency, we handle all of the strategy, creation, promotion, and analytics of the content. But the balance of blog content was more like:
50% Content Strategy
30% Content Creation
20% Content Promotion
0% Content Analytics
ZERO PERCENT on content analytics. Yikes!
Immediately, I wrote down to spend time brainstorming blog post ideas on content analytics. (This post about a content audit sounded like a good place to start!)
Conclusion
A content audit means evaluating and reviewing your content (blog posts, eBooks, white papers, etc.) and identifying areas to improve or problems to fix. After a review of our blog content, we determined that we needed to take a different approach to content categories. We found several posts that required updates and identified a missed content opportunity in discussing analytics.
A content audit takes time but ends up saving you resources by empowering you to find posts from the past that could be made new again with the right revisions. What sort of content will you dig up?
Want more tips for generating leads with your company blog? Download our free guide, 6 Company Blogging Rules to Immediately Implement to Drive Website Traffic, Generate Leads, and Build a Powerful Brand.
We love creating and promoting meaningful content for our clients. We work behind the scenes and let you shine. Would you like to work together? Please click here to complete the form and schedule a free 30-minute consultation.