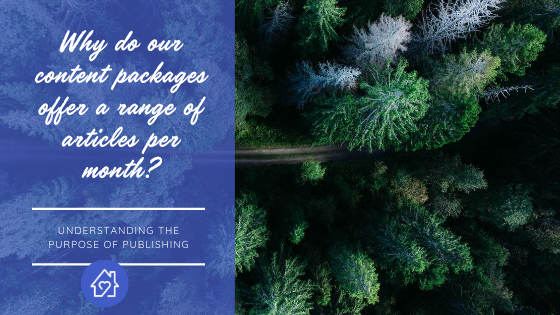 When you hire someone to manage your digital content, it's more than a transaction. We see the bigger picture with your content; both the forest and each individual tree. You're able to delegate content creation to someone who is going to do what's best for your business.
With a copywriter or copywriting service, you'll instruct the person on what to write, pay them, and they'll provide an article for you. Tree planted. Transaction complete. The responsibility of effectiveness still lies on your shoulders.
If you're looking for more help generating results, consider a content marketing package with us. [Are we a good fit? Complete this questionnaire and let's schedule a free 30-minute discussion.]
Our Perspective
You shouldn't have to choose between writing an additional post yourself or paying extra to get something on the website.
We're here to serve you. That's why our ongoing content services offer a range of posts, for example, 2-4 posts per month, instead of a finite number.
We recommend at least 2 original articles be published on your website per month. Here's why:
Google loves new content and will reward your website accordingly.
Your audience loves new content and enjoys hearing from you consistently.
Your social media channels need content or else you risk looking absent.
Occasional Content Needs
First, let me state that there are some goals that require weekly blogging in order to be successful. For instance, growing an email list. For other goals, you can stick to the baseline of publishing twice per month.
Here are some reasons why we might occasionally publish more than twice per month for you.
Event Promotion: You might have an upcoming event that requires a little more promotion or simply a space on your website to send people. We'll come up with a post, ex. "5 Things You'll Learn at Our (Free) Webinar" and add it to your social media channels so that you can boost headcount and RSVPs.
Series Posts: Complicated topics are best understood when they're broken down into multiple articles. When this needs to be done, we don't want your audience to wait too long for the rest of the information because their enthusiasm dwindles.
For example: We publish "How to Retire Early, Part 1" which goes into the details of how an individual can calculate their financial needs and expectations at retirement. A week later, we publish "How to Retire Early, Part 2". These articles came from the same conversation and were merely divided into part 1 and part 2 so that they were easier to digest.
Updated Content: As we look back at your analytics and determine the top-performing content on your website, we might see that there's an article in need of updates in order to remain relevant. Since it's still producing traffic to your website, it's important to fix it up and republish. Ex. A recruiting agency has a popular article on its website titled, "10 Career Mistakes to Avoid" but some of the technology mentioned in the articles is dated. (What's an iPod?) We spruce it up and add some current examples.
Conclusion
You're trusting us to do what's right for your business by publishing content on your website. Sometimes that means we publish more than twice per month. Providing a range in our monthly service agreements empowers us to make the right decision so that content helps you achieve your business goals.
Ready to get started with a monthly agreement? Complete this form to get started.