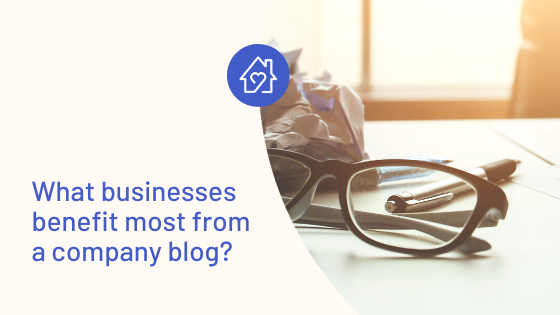 Have you been considering a company blog? The internet today brings the necessary information to our fingertips. Instead of relying on television for salespeople to explain the differences between different products and services, people can now look things up online for themselves. The most common places people look for information is on social media and search engines (which love blogs).
Your audience wants information, but they have to be able to find it. Blogging and social media give consumers the opportunity to find what they want, and these mediums give your business the opportunity to be in the right place at the right time. Here are some of the industries that can especially benefit from blogging.
Industries That Should Blog
Financial Industry
The financial industry covers a lot of ground. To win at content marketing in this industry, drill down and focus on a specific problem that you're trying to solve. For example, if you are an accounting firm that works primarily with small businesses, focus on how you can help small business owners save money on taxes, ensure their employee compensation package is competitive, or create a company retirement plan.
You can also ask the leaders from different departments to take turns writing a blog each week. From how-to's to explanations of more complicated subjects, your team can contribute greatly to your customers' financial knowledge.
Health Care
Doctors and dentists have a disadvantage when it comes to "customer" reviews. They often cannot respond to negative reviews due to patient confidentiality and many patients won't leave positive reviews because of privacy concerns. That means the information that comes up in search results is often skewed and usually unfavorable.
This is one reason why it's important for healthcare professionals to strengthen their online presence by consistently publishing content on their website. It helps them position themselves as an expert in their niche. (Additionally, they can address negative feedback from a more general standpoint so that anyone conducting research can understand from the company's perspective.)
Home Services
Contractors and home services professionals like electricians or HVAC technicians are people who need to be invited into someone's home, which is extremely personal. Additionally, homeowners often don't know if the contractor is doing a good job or not. There are a lot of shady contractors who charge more than they need to or lie about the work being done. How can you separate yourself from the crowd?
Write about subjects that make you an expert in the industry so your potential clients will be confident to choose your business. Address frequently asked questions that are relevant to your business. For example, an electrician could answer "Why Does My Hairdryer Trip the Circuit Breaker?" or provide tips like "3 Things to Unplug Before You Go On Vacation." Ask people in your organization what questions they get from clients to get ideas for blog topics as you start out.
Lawyers & Attorneys
Attorneys are great at communication and describing how the law works. (Though sometimes they can be a little long-winded, ammiright?)
They can also be very practical people. And using that practicality to publish relevant content on their website is beneficial to them for a few reasons. First, think about the potential client. If someone is looking for a divorce lawyer, they are more likely to trust someone who has several articles on their website addressing relevant issues like alimony, child custody, and dividing assets. They'll get to know your personality through the writing and make a decision whether you're the right person for them.
Second, that means the people who you don't want to be a client will weed themselves out. If you pride yourself on peaceful resolutions, someone who is seeking a less-amicable divorce won't reach out to you. Great! That's more time for you to spend on clients who are a good fit and make you happy.
Of course, you want to make sure the articles you publish on your website aren't misinterpreted as legal advice. There are several ways to address this, but that's a topic for another day.
Key Takeaway
Complex industries or businesses that require a lot of trust from their prospects in order for them to make a purchase decision are perfect examples of how a blog can work to build your authority. Don't wait to get started.
If consistently publishing content to your website is a struggle, consider outsourcing the task to a company that takes the time to understand your tone of voice, audience, and desired results. We'd love to be that company for you! Call us at 410-259-1514 to get started.