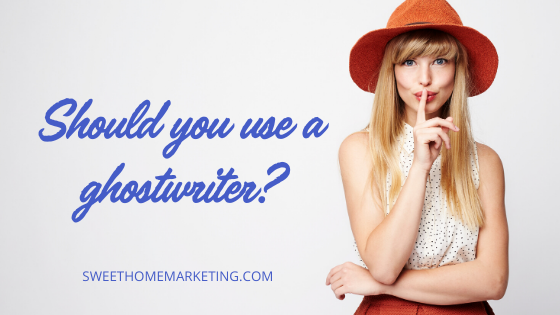 A ghostwriter is someone who writes articles on your behalf. That means they do the heavy lifting and you get the byline; the credit for being the author. When you decide to work with us, you can choose to either have us operate behind the scenes as ghostwriters (so that blog posts are under your name) or we can write as your "chief blog officer," appearing like one of your team members. They're both great options for their own reasons. So, which should you choose?
The good news is that these options are not mutually exclusive. In fact, we usually recommend having a mix of posts and recommend authorship based on the topic. For example, a post about Inexpensive Ways to Upgrade Your Livingroom should come from the interior designer. On the other hand, a post on 15 Tweets From People Who Really Messed Up Their Bedroom Décor could be credited to the blog manager so that it doesn't appear the designer has been sifting through tweets all day.
How a Ghostwriter Helps Your Business
✔️ You build your personal brand. The articles we write are done with your expertise on the topic. If you're looking to raise your profile and you're a solopreneur, let's say you're a public speaker or coach of some sort, then it's beneficial to have any blog articles written as if they were done by you.
✔️ Your thoughts and ideas are clearly articulated. It can be challenging for someone who is an industry expert to "zoom-out" and write about certain topics they know so much about. A ghostwriter creates a cohesive message using your opinions and expertise that you are then able to proudly broadcast to the world.
✔️ You won't need to worry about if you should change the author later on down the road. You will be there for the entirety of your business. Anyone else might leave for one reason or another. By listing yourself as the author on blogs, you won't need to consider going back to change anything. (Note: We don't ask you to do this anyway. It's okay if we're listed as authors on your site long after our agreement expires. It's really up to you.)
Why a Ghostwriter Might Not be the Best Choice
✖ There's no barrier between you and your audience. This can be seen as good or bad, and really it depends on how much time you have to spend reviewing the content. If something in your blog posts causes confusion or sparks questions from your audience, you could always say, "That's incorrect. I'll tell my blog manager to fix it." That is unless the article has your byline.
✖ You look like a company of one. Some businesses want to appear bigger so that they can attract larger clients or contracts. Having another author on your blog shows that you have a dedicated team that is helping your company grow.
✖ If you have a team, they might wonder why they're not included. When we're raising your personal brand, are others on your team going to wonder "why not me?" If so, you might want to stick with a dedicated blog manager.
✖ Your writer might be a little less enthusiastic. It's fun to spend a ton of time on lengthy creative articles that generate traffic to your website and help you get tons of exposure. It's a little less fun if you don't get the credit publicly for that success.
Conclusion
It can be tricky deciding whether or not you want a ghostwriter or blog author for your business. If you're not sure, we can always discuss it with you and determine the best route.
The best part is that you don't have to choose between the two! Many times we end up with a combination of ghostwritten articles and blog author articles. We're flexible so that we can accomplish your goals.
Ready to get started? Give us a call at 410-259-1514.