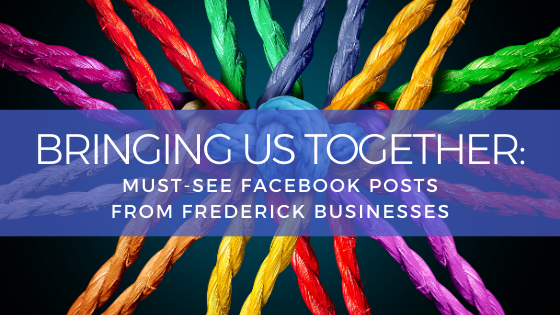 This week we're celebrating the Frederick businesses that have shared something special on their Facebook page that deserves more attention. They are spreading positivity with their creative, uplifting content. Let's dive right in.
[Related Reading: 8 Actionable Tips that Increased Client's Facebook Engagement Rate by 1,400%]
Don't Miss These Facebook Posts
While the men's acapella ensemble is all following the stay at home orders, that doesn't mean it kept them away from singing together. The group recorded their individual parts for "Rainbow Connection" and then brought it all together for a beautiful YouTube video. This "virtual chorus" is one of those posts that you wish you saw–and heard–sooner.
You might be thinking…soccer teams clearly can't get together right now, so what could they possibly be doing on Facebook that's interesting? And that's where we introduce you to the #stayathomechallenge, the only game where you "foot dribble" a roll of toilet paper and hand it off to the next person so that it appears that you're all together.
Many Frederick Residents were eagerly awaiting the opening of this new movie theater on the Golden Mile that will be offering first-run films, top-notch food and drinks, exceptional picture and sound, and recliner seating in every auditorium. They are offering a free Live Stream every Friday night. This week, May 8th, it's John Wick. They haven't posted about it yet, so we took the announcement from last week and embedded it below. Follow them on Facebook for the latest info.
Many high school and college seniors have been unable to have the usual graduation ceremony and all the fanfare that comes with it. How about getting a sign for your graduate? [Related Reading: Principal Surprises 220 Graduating Seniors with a Celebratory Visit to Their Home.]
Don't forget about this downtown Frederick shop. They created an order window so that you don't have to go inside. They're currently having a hot dog design contest, which would make a fun activity to do with your kids and then submit your family's favorite.
It was hard to choose which post to include here because all of Deb's posts are so darn delicious looking. If you don't follow them yet, you should right now. I mean, LOOK AT THESE THINGS! And you can learn to make them.
If you're craving a cup of their delicious brew, there's good news. You can now subscribe to their monthly coffee service! I will definitely be a customer after I finish this ridiculously huge container from Costco. (I may have been overly concerned that my supply would be cut off…)
(Disclosure: client of Sweet Home Marketing)
This real estate agency is all about giving back to the community and they're not stopping now. They are giving away 130 gift cards to local Frederick businesses on a Facebook Live on 5/7 at 7pm. No strings attached. This amounts to hundreds of dollars going to restaurants and other businesses that have been impacted by the pandemic. Click here for more details.
Missing the local wineries? Me, too. There's nothing better than enjoying a sunny day while sharing a bottle with a few friends somewhere away from the stress of being at home. Big Cork suggests a little random act of kindness that will go along way. Any takers?
We'd be remiss if we didn't include Sue Hough and her team's amazing initiative, "Nom for Good." They're selling shirts and bar glasses to help give back to the community. All proceeds go to the restaurant or bar of your choice. I ordered the taco one and will show it off soon!
Update: Looks like sales ended yesterday. Send them a message if you're late to the game and want to make a purchase. They might make an exception.
Conclusion
Frederick County businesses are coming together. Whether it's to entertain like the Frederick Catoctones, educate like Deb's Artisan Bakery, announce new offerings like Dublin Roasters, or give back like Octavo Designs, our community is stronger because of the businesses here.
How can you support them? Like their page (it's free), share a post, or go buy something if you can. There are a lot of businesses that aren't in the restaurant industry that need our help. YOU can do something positive for your community, too!
Like what you see? Scroll down to subscribe. ⬇️