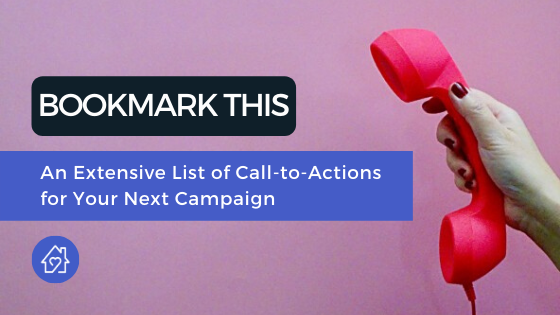 You wrote an awesome blog post or eBook that completely mesmerized the reader, but what is your audience supposed to do next? All of your marketing content should include a call-to-action (CTA) that answers this very question.
You can direct them to your website or a social media profile, download a full report, or more. The options are endless and the right one for your business depends on your content marketing goals.
Here are some of the best CTAs for your business.
Install Now
You can add this CTA button directly to your content and encourage an immediate conversion. It's a great option for businesses that have a mobile app and a goal to increase downloads.
Grab/Snag/Seize X Now
Despite what they say, people still prefer to get than to give. When you start your CTA with a word that signifies a benefit for the consumer, you're more likely to get them to click. Also, the word "now" creates a sense of urgency. It shows that the consumer has to hurry up or risk missing out on this great opportunity.
Share or Retweet
Another great call to action is to ask the audience to share your post. This is a great way to engage with your customers, which leads them to share your content – and your business – with their social media followers. You can do this on Twitter, Facebook, LinkedIn, or any other social media platform. Simply close your post by adding: "Share with your friends!"
Send a Message
Asking your audience to get in touch with you is a great way to move them towards buying your product. If someone is anxious about making a purchase or signing up, you need to make yourself or a member at your company easily accessible.
Join (a Number) Other Subscribers on My Email List
When you have a huge email list, you should use it to your advantage. Consumers will see those numbers and think that they must be missing out on something. They will wonder why thousands of other people are so interested in what you offer, so they will probably want to join as well.
Customize this message by changing "subscribers" to "musicians" if you're a music shop, or "industry experts" for a specific industry. (It's more flattering to be called a musician or an expert than a subscriber.)
Get Your Free…
This is basically the simplest form of this kind of CTA. You're inviting your audience to get something for free. And it has to be something valuable, such as a toolkit, cheat sheet, or free template. These are lead magnets meant to convince people to subscribe to your email list in exchange for something they might find useful.
Start Your Journey Toward…
Communicate a direct benefit of clicking on your CTA button. Let the audience know what they will get in exchange for giving you their email address or buying your product. Benefits and results-based CTAs make it easier for potential customers to imagine their own success.
Ask a Question
If you ask a question, it also represents a call to action for your audience to engage. A CTA for engagement can be an excellent way for you to open communication with your potential customers. This creates brand recognition and customer loyalty, and it might eventually lead to sales.
Other Useful Call-to-Actions
I try to keep the CTA simple and sweet. Here are a few of my favorite CTAs to use on content:
Visit Our Website
Learn More
Download Now
View More
Read More
Connect With Us
Book Now
Find Out More
Listen Now
Watch Now
Sign Up
Subscribe
Try It Out
Get Started
Request Access
Start Today
Send Me More Info
Email Us
I hope this helps you create the perfect call-to-action for your next piece of content. Don't let your content efforts go to waste. Guide the reader and encourage them to take the next step into your funnel.
Like what you see? Please subscribe by entering your email address below.