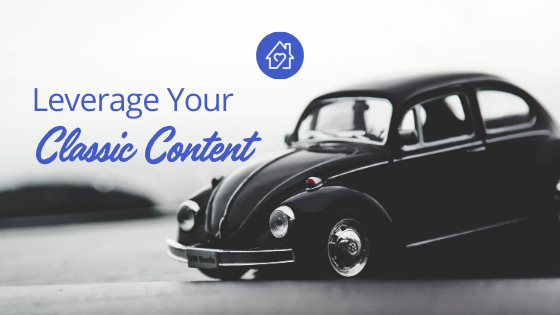 Updating your top content sounds unnecessary. If it's already performing well, why do you need to change it? You might even be afraid that an update will kill your golden goose. Fear not.
In addition to ensuring that the information is still accurate, you want to update your top content so that it continues to generate results for your business. Website traffic is great but "man cannot eat on website traffic alone." We need to generate interest, leads, or sales with our content. By leveraging the pieces that are already doing well, we're off to a great start.
Find Your All-Star Content
If you're looking at your analytics regularly, you probably recognize the content that is consistently generating website traffic. Here's how I tend to identify my all-star content:
Open Google Analytics
Click on Behavior
Select Site Content
Choose All Pages
Change the Date Range to get a full year
Write down the company blog articles that are generating the most traffic.
Focus on the first page (top 10) of the site content results to get started. For reference, my top two articles are:
The first blog post was created in 2018 and has continued to generate thousands of website visits since the day it was published. What an amazing content asset! How can I leverage it?
Test Different CTAs
A few months ago, I added an email subscription to the middle of the post as a call-to-action (CTA). It has generated precisely zero subscribers. Since it's not adding any value to the post, it has now been removed.
Don't be afraid to try something new. If it doesn't work or isn't generating the results you were hoping for, you can always go back and change it. I've now added a CTA that encourages the reader to download our free eBook.
Link to Other Articles – Especially Top Content!
You've probably created new, valuable content assets since publishing your all-star content. Is there something more relevant that you could link to? For me, the second top article was published a few months ago, which meant I could add a link to the 'Rule of Thirds' article that went to the other top post.
Update Your Conclusion
Your conclusion usually contains a CTA that tells the reader what to do next. Ex. Download, Read, Visit, Subscribe. Our businesses change so frequently that you might find the CTA on the article is out of date. This is a huge problem – your top-performing content needs to contain your latest offer. Change it immediately so that it can get you the results you desire.
Conclusion
Your top-performing content needs to be identified and updated on a regular basis. When updating your content, test different CTAs, add links to newer articles, and be sure to update your conclusion with your latest offer. Doing these three things will ensure that your top-performing content becomes lead-generating content.
Want more tips for generating leads with your company blog? Download our free guide, 6 Company Blogging Rules to Immediately Implement to Drive Website Traffic, Generate Leads, and Build a Powerful Brand.
We love creating and promoting meaningful content for our clients. We work behind the scenes and let you shine. Would you like to work together? Please click here to complete the form and schedule a free 30-minute consultation.