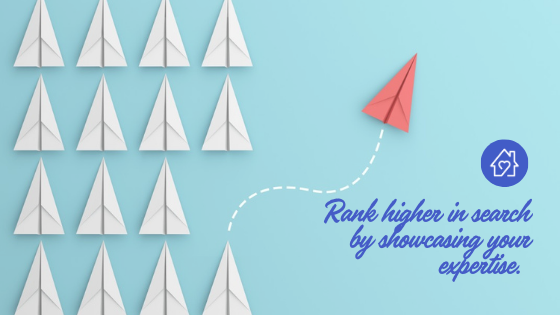 Your business gets a boost in search engine results whenever you publish updated or new website content. That's because it indicates that your page is still relevant and your business is active.
The most efficient way to publish consistently is by using a corporate blog. Blogging allows you to share what you know, get in front of your customers, and get ahead of competitors. Here's how it helps with your search engine rankings.
Building Authority
With a consistent stream of blog posts, you can show your audience that you are a real expert in your industry. Customers will begin to trust you and consider you as a source of reliable information. You don't have to reveal all of your secrets, but writing tips and tricks will show others that you are a trustworthy source.
The combination of fresh new content and related keywords on your field of expertise helps boost your search engine rankings. It also increases the likelihood that you will be on page one of search results for a related question or term. (For example, I did not know that I would be on page one of search results for this blog post on Using the 'Rule of Thirds' When it Comes to Social Media.)
My philosophy is to give generously. There's no substitute for personal, one-on-one assistance, so don't worry that giving away your expertise will take away revenue from your business. Chances are, the prospect can find the information elsewhere anyway. Focus on being their resource and they will come to you when they're ready to buy.
Generating Backlinks
When other websites share your content, your site generates what is called a backlink. Also known as external links, they send a signal to search engines that you are a trusted source of information on a topic. This especially helps with your rankings.
Build "sharable" content into your corporate blog editorial calendar. These posts are ones that people or other businesses want to share with their audience.
Growing Partnerships
As much as it is crucial to have a continuous stream of quality content, growing a network in your space is equally important. When it comes to blogging, partnerships are mutually beneficial. When you connect with other companies or individual blog writers and allow them to guest blog or share content, you are creating valuable backlinks and vice versa.
A real estate agent could team up with his or her recommended moving company to create an article on packing tips, establishing a partnership between the two organizations.
Building Your Email List
If you are building an email list of people interested in who you are and what you do, blogging is a great way to get them to sign up. They will get value from your blogs and want to hear more from you.
This might not sound like it relates to search engine rankings but you can use the data from your email list to create better blog articles. Find out what topics interest your audience the most and produce more of that content.
If you allow comments and questions from users, you will have a great opportunity to learn more about your customers and get a feel for their needs and identify where you could help. This helps you write articles that match what your audience is searching for.
Conclusion
Publishing content consistently on your website through a corporate blog is the best way to build authority and rank higher in search engine results. You can also establish valuable partnerships and grow your email list through enticing content.
Want more tips for generating leads with your company blog? Download our free guide, 6 Company Blogging Rules to Immediately Implement to Drive Website Traffic, Generate Leads, and Build a Powerful Brand.
We love creating and promoting meaningful content for our clients. We work behind the scenes and let you shine. Would you like to work together? Please click here to complete the form and schedule a free 30-minute consultation.