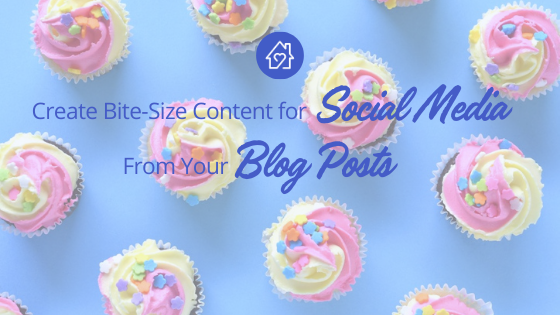 Should you repurpose your blog posts for social media? Absolutely! Many people think they are finished after they wrote an article, posted it to their website, and shared the link on their social media channels. But even if they shared the link more than once, it's not enough to establish a credible brand and get in front of your audience.
Here are three reasons why you should take that blog article copy and break it down into bite-size chunks for social media.
Repurpose Your Content for Social Media
Social Media Sites Prefer Their Users Don't Leave Their Site
Third-party articles, like a link to your blog post, won't get as much traction as a graphic or video. That's because companies like Facebook don't want their users to click away from their website.
That means it's harder to get website traffic from social media if you're only posting links. Change things up a bit. Create videos, gifs, graphics, photos, or even plain text posts to get in front of your fans.
You will be reaching more people with different types of content, which means you'll likely see an increase in traffic to your social media page and your website.
Some People Only Read Headlines
There are some folks who won't ever choose to click on a link. They'll read your headline and form an opinion based on that limited knowledge. By posting more often with a variety of content, you're ensuring that your message is accurate and consistent.
That means it will be more effective, too.
Different Types of Content are Seen by Different People
Some people like reading lengthier ebooks while others are addicted to shorter articles. Some people are readers while others prefer watching a video. Many are visual learners and will obsess over a good-looking infographic, even if it has your brand all over it.
Creating videos doesn't have to be expensive. Here are a few tricks to inexpensive video marketing. My favorite tool right now is Animoto.
The most important thing is to get your message, your expertise, out there. Try a variety of content and see what works best. Your graphics may help you get seen by an entirely new audience.
Leverage What You Already Created
It takes time to craft a great article. Why not make the most of it? By highlighting the key points and pulling signature quotes, you are able to create a steady stream of social media content for weeks to come.
[Even
Sesame Street
Repurposes Content!]
That sure beats having a stagnant Facebook page. Imagine being able to preschedule high-quality content that helps your business remain relevant. It's worth the extra effort
Conclusion
There are a number of benefits to repurposing your blog articles for social media. Establishing credibility online means that you're posting consistently on your social media channels and your message is consistent and clear. A good way to ensure you're doing your best to produce a high-quality presence is to break down articles into a variety of shorter form content.
We love creating and promoting meaningful content for our clients, and we handle the repurposing for you! We work behind the scenes and let you shine. Would you like to work together? Please click here to complete the form and schedule a free 30-minute consultation.
Want more tips for generating leads with your company blog? Download our free guide, 6 Company Blogging Rules to Immediately Implement to Drive Website Traffic, Generate Leads, and Build a Powerful Brand.