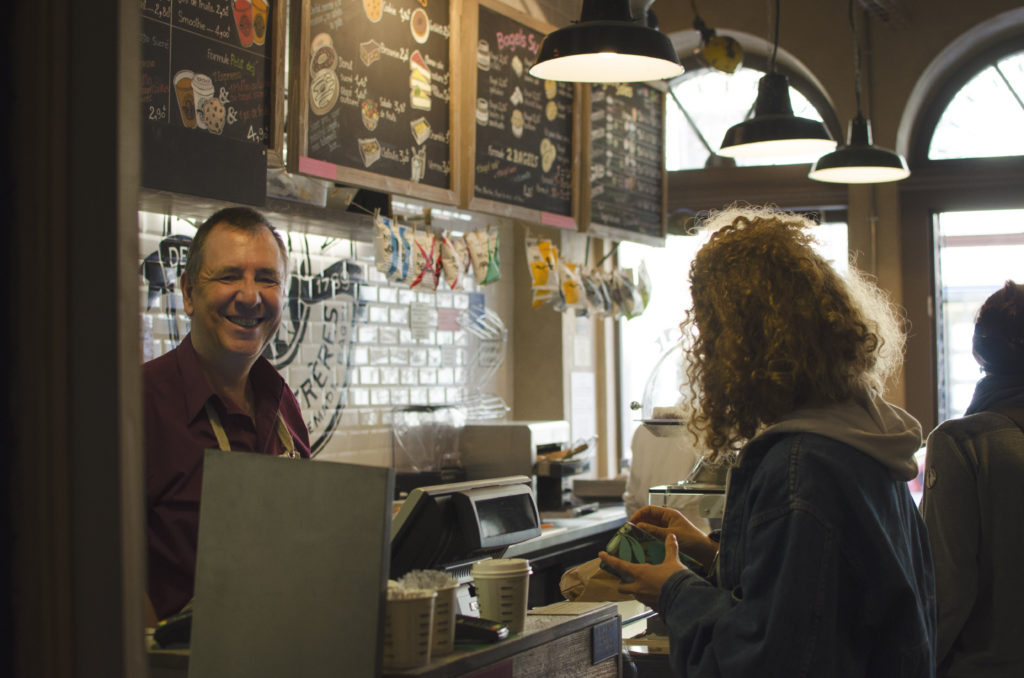 The best mobile apps do one thing extremely well." –Motley Fool
What mobile apps do you use the most frequently? My guess is they are simple and serve a single purpose. (Like Netflix.) Facebook decided to focus on the mobile experience a few years ago, which is why they have so many different mobile apps. Each one fulfills a specific need. But which ones do you need?
If you're confused—I know I was—then here's a list of what's available and their purpose. Scroll down to the bottom for a nifty chart.
Facebook Apps Worth Downloading
Facebook: You probably already have this one on your phone. It's the classic Facebook app. You can scroll through your newsfeed, comment/like on other people's posts from your personal profile, and there's limited access to your business page functions. Really the main focus of this app is to engage with your "friends" through your personal account.
Facebook Messenger: A few years ago, Facebook separated the messaging functionality from the main Facebook app, making it a necessity to download this standalone app if users wanted to use Facebook private messaging on their phones. Facebook says that users who use this app respond to messages 20% faster. This is connected with your personal account and it comes in handy when you don't have someone's phone number, want to send a post that reminded you of someone, or if you don't want to give out your number.
Facebook Local: I'm so happy they separated events into their own app. This app makes it easier to find events nearby and see what your friends are doing. I always used to miss event invitations because I would receive the notification but wasn't ready to RSVP. Then I would forget about the invite. This app makes it easy to find out what's going on and meet new people. Networking is one of the best ways to build your business!
Facebook Pages Manager: This app allows you to post updates to your page, respond to messages, and view your admin capabilities like insights and settings. While there is some overlap between what can be done in the regular Facebook app and Page Manager, I recommend that you download this one and get in the habit of using it for all business-related posts. I've noticed that my business comments sometimes come through as my personal name on the regular Facebook app, which looks ridiculous when you're saying "thanks for the 5-star review" on behalf of a business where you're not the owner. Facebook is constantly making changes and the best way to assure that you don't mix business with pleasure is to get in the habit of using Facebook app for personal use and Pages Manager for business.
Facebook Ads Manager: As Facebook.com says, "this is your ad campaign command center." Monitor and manage your ads from anywhere with this app. Even if you're only doing ads once in a while, it's important to have this available. Let's say the imagery or text of a campaign had a unexpected negative reaction with your target audience. You can edit or pause the campaign immediately, even if you're headed into a meeting. It's also a good use of your time to check-in on all those campaigns when you have a few minutes of downtime, like when you're waiting for someone.
Runners Up:
These Facebook apps are worth knowing about, but they're still working out some kinks.
Facebook Creator: If you're interested in doing more with video or becoming known as a content creator, then this app might be worth downloading. Play around with it. I don't understand who this app is actually for and it seems like they rushed to get something out before really thinking it through. It's connected to your personal account, which goes against my recommendation of separating business stuff. There's also a lot of overlap between its functionality and the apps mentioned in the above section, so unless you have some free time on your hands or really love trying new things, I don't recommend it at this time.
Facebook Analytics: If you want to look at analytics on the go, download and start this app sooner rather than later. It only shows data that is available since "data collection started," which means you need to download it and get it going first in order to see results. Facebook Analytics allows you to view the customer journey across your Facebook Page, website, and mobile or desktop. You can then dive into how customers find you and where they go after they've found you. Personally, I like being in front of my computer for this type of thing.
Workplace and Workplace Chat: Workplace is essentially a private social network for organizations. It has a similar user experience as Facebook, so one of the benefits of implementing it at your organization is there's less of a learning curve. Workplace Chat is Facebook Messenger for business.
Do you need it? Probably not.
App Name
Main Purpose
Should you download it?
Facebook
Access your personal account, scroll your newsfeed, share updates with your connections.
Yes
Facebook Messenger
Private message your personal connections
Yes
Facebook Local
Find out what's going on in your area and see event invites more easily.
Yes
Facebook Pages
Access your business page, interact with people as your business
Yes
Facebook Ads Manager
View/edit your ads
Yes, if you're doing Facebook advertising
Facebook Creator
Creating content & accessing analytics
Probably not
Facebook Analytics
In-depth access to analytics and insights
Probably not
Workplace/Workplace Chat
Private social network for
businesses
Nope
There you have it. A clear guide for what Facebook apps you should download in order to run your Facebook business page from your phone. What do you think about Facebook's mobile app strategy? Is it a nuisance or is it smart? Leave a comment with your thoughts.
If you like this article, please share it! Thank you!