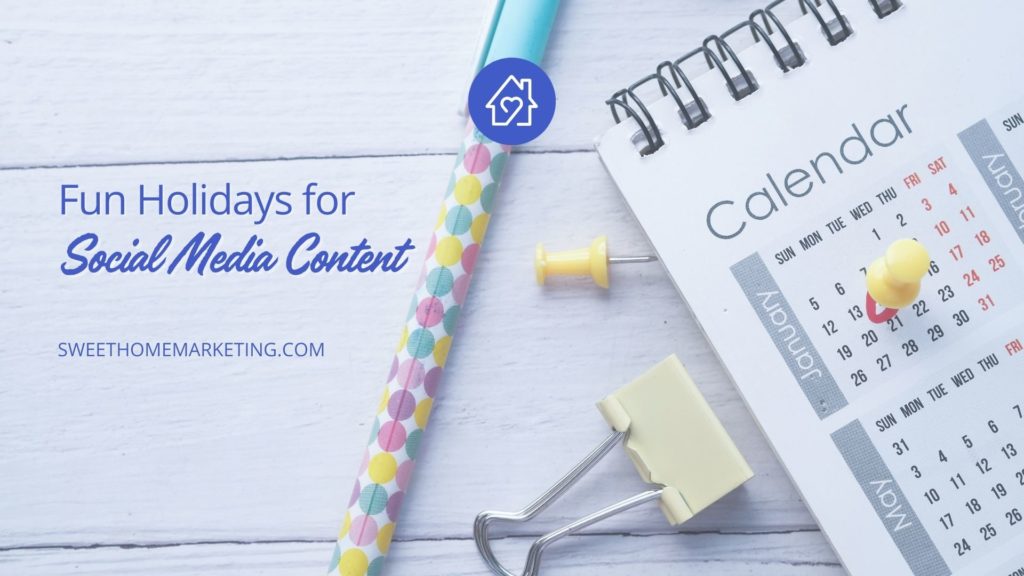 We've all heard of the fun, yet weird holidays like "National Nachos Day" or "National Emo Day." It seems like every day is some sort of holiday and it's true! Many of these holidays were started by a woman who believed that each day is worth celebrating. Who could argue with that?
When it comes to planning and creating social media content, it helps to have a calendar of these quirky dates as a reference. You'll be able to expand your subject matter, incorporate a personal touch, and reach new people. The simplest benefit is that it will be easier to come up with ideas for what to post. We all know that posting regularly on social media is important.
Get Creative with Weird Holidays
Instead of creating a graphic with a stock photo and slapping on a "Happy National Oatmeal Day," try choosing themes that expand the personal side of your business.
Here are a few examples of what this could look like in action:
If you know it's important to share a photo of yourself, but you feel weird doing it…Grab an ice cream cone and show how you celebrate National Ice Cream Day.
Is the business owned by a husband and wife team? Consider sharing details on Husband Appreciation Day and Wife Appreciation Day.
Surprise your team with donuts on National Donut Day. Record their reaction or take a team photo with a snack in hand.
We created a free printable 2021 calendar for you here. How do you use it? Just print it out, cross off the dates and holidays that interest you, and then hand it off to your marketing professional. They can come up with ideas for posts or even a campaign (like a giveaway) that aligns with your business goals.
In this article, we'll show you a few great examples of how these weird holiday posts can work for your business. The following are examples from service-based businesses that stood out.
Examples of Fun Holiday Posts
#1 – National Popcorn Day
This post from morning show co-host Megan Heidlberg is everything that social media dreams of – a stylish outfit, a sneak peek behind the scenes, and a photo of herself holding two large bags of the delicious snack.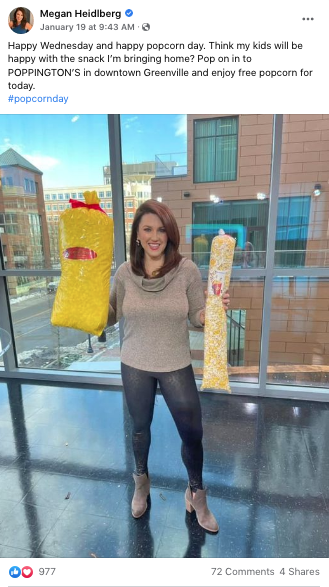 #2 – Small Business Saturday
The fun holiday doesn't have to be weird to make for a good post. This non-profit arts and culture community center shared a captivating after-hours photo of their location. How about sharing a beautiful photo of your business?
#3 – International Yoga Day
Skim the 2022 calendar and highlight any holidays that are directly related to your business. This yoga studio took advantage of the International Yoga Day to showcase their best poses. Look closely and you can see that she spells out "yoga day" – how creative!
#4 – National Brothers Day
Does your business have anything to do with animals? A twist on the usual National Brothers Day posts is to use the opportunity to show the related pair. (An alternative would be to share a photo of you and your brother.)
#5 – National Be a Millionaire Day
On this day, too many accounts are asking the same boring question…"What would you do with a million dollars?" This self-proclaimed "bookkeeping and budget nerd" knows how to stand out: with a photo of herself having fun.
Conclusion
These fun holidays are meant to spur ideas and inspire you to think out of the box when it comes to social media content. Download the 2022 Fun Holidays Cheatsheet and start doing the work to stand out on the newsfeed. Scroll down to subscribe and receive new blog articles directly to your inbox.