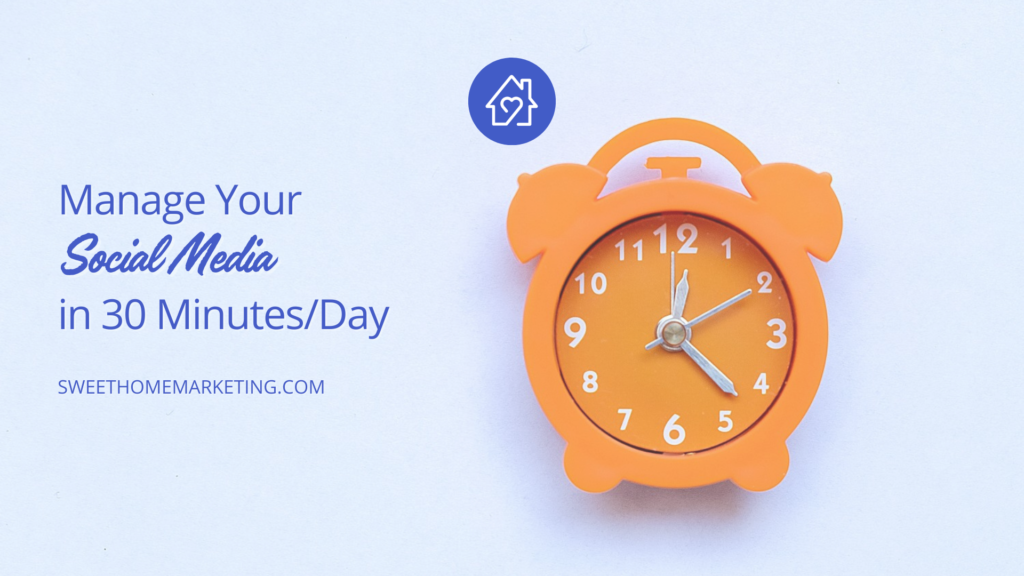 It's important to manage social media for your small business. However, it's easy to get distracted. Before you know it, you're deep in a rabbit hole of helping random strangers on the internet who posted in your favorite Facebook Group. That's nice of you – but it isn't going to help you generate leads.
A simple solution for this is to go directly to the URL where you need to be. For example, I go to facebook.com/sweethomemktg instead of going to my personal Facebook homepage and clicking through to the Sweet Home Marketing Facebook Page. I've found that simple solution helps me accomplish my tasks without distraction.
But sometimes, even without the unnecessary distraction, it can seem impossible to squeeze social media management into your day. How do you balance business social media and all the other duties that must be done? I don't necessarily have the answer but I do have a suggestion for how you can get social media management down to 30 minutes a day.
It's important to note that this is for daily social media management. It doesn't include bigger-picture strategy like creating your social media plan and making sure you're making progress toward your goals.
The Foundation for Managing Social Media for Small Business
Focus on Customer Service
That's right. A marketing person is telling you not to focus on marketing. Here's why. Making sure that your customers are ridiculously happy is the best way to manage your social media. When you provide a top-notch product and exceptional service, those customers will become reoccurring customers. They'll recommend you to their friends and family. They'll post about you on social media, share your company's posts, spread the news of any discounts or upcoming workshops. They'll even leave you a five-star review on Google, Yelp, or Facebook. Focus on customer service and you'll have built a referral-generating machine.
Limit Your Social Media Channels
Since you are a small business, you should be laser-focused on what social media channels matter to your audience and limit yourself to two channels. You know the phrase, "Jack of all trades, master of none?" That applies to social media. You'll see a better ROI if you are responsive and present on two channels than if you were on every channel and doing a terrible job. Also, you don't need to be on every channel!
Read this: Identify the social media channel that's right for you.
Use a Scheduling Tool
My favorite for small business is Buffer because the free plan allows you to manage three channels. Additionally, they have a Chrome browser extension and a better user experience than competitors. Others you could try include Hootsuite or Sprout Social. The benefit of using these tools is that you can schedule a week's worth of posts in advance and the tool should be able to provide the best time to share with your audience. If one of your channels is Facebook, use the scheduling function within the platform and see if you like it.
Block Out 30-Minutes Every Day
I recommend doing it in the morning so that it's crossed off the list before lunch, but you can find the time that's right for you. Set a timer for 30 minutes and focus on social media for your business. How do you keep it to only 30 minutes? What do you do first? Glad you asked.
Daily Management of Your Business Social Media in 30 Minutes/Day
Follow these steps in order every day until you reach the 30-minute mark. Start the next day back at #1.
Check channels for incoming messages and notifications. This is part of the "focus on customer service" advice. Since you only have two channels (see top of post) this shouldn't take long. Answer everyone who requires a response, like that person who messaged your business page to ask for an estimate on monthly home cleaning. (BUT, do not call that person and pretend that counts as social media time. If the message requires another step, write that down as something to address after your 30 minutes.) Acknowledge and thank anyone who has left a positive review.
Schedule Something New. Once you've picked your scheduling tool, it'll take a little while to get used to it. You should eventually get to the point where you can add content to your queue and the tool will automatically post on a given date and time. Hopefully you've taken the time to create a one-page social media plan for your business. This serves as a great resource for what you should post. Remember that the best posts are ones that serve your audience, so be generous with advice and tips that relate to your expertise. When you get to the point where you have one week's worth of content in the queue, go to number 3.
Socialize. A big reason to have a presence on social media is the social part. Crazy how that works, right? So, how do you socialize? The easiest thing to do is to be a good host to the guests who come to your page. Did someone leave a comment on a post? You could occasionally 'like' it or reply with a follow-up question (as your business page) to show your support for the feedback.
Share a post from another page. This is a great way to add an additional way of connecting with the community. You could share a local event or something from a partner's page. Since there's no easy way to schedule Facebook post shares, do it in real-time when you can and limit yourself to once per day. For Twitter, it's really easy to retweet and with Buffer, you can even schedule retweets to post later on in the day.
Look back at last week's posts. You might not want to dive into a full-blown analytics session, but at least take a look at what you shared in the past week or month. What did really well? What did poorly? Are there any insights that you could use to improve future posts? For example: If all of the posts that did poorly were text-only posts, then you should try to always have a photo or some type of visual aid that goes along with anything you post. Learn. Improve. Repeat.
Conclusion
The most important thing for you to do on social media is respond to direct messages and comments. Next would be to create or curate content for the channel, followed by reaching out to other accounts if you are using a platform like Instagram. By looking back at your past posts, you can determine what you should replicate to further grow your following.
Want more? Join our Facebook Group, The Credible Brand: Online Marketing for Service-Based Businesses.