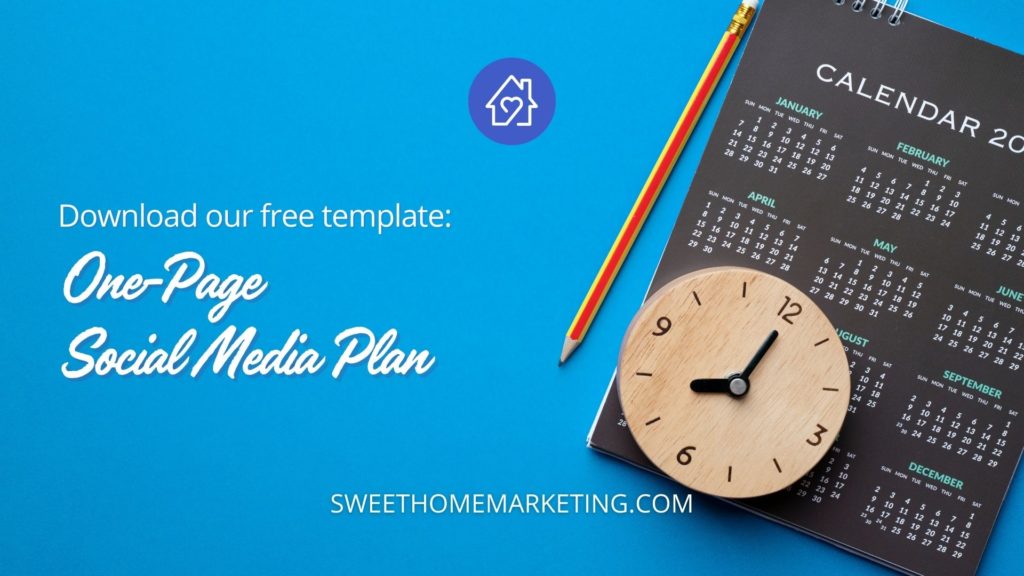 We created our One-Page Social Media Plan Template to help you create an effective social media strategy and measure what matters. It's available as a free download or as a free resource if you join our Facebook Group. This article will guide you through each of the questions.
The Purpose of a Social Media Plan
It's easy to jump in and start posting without a plan but it's impossible to determine success if there is no plan. A social media plan is meant to remind you of what you are measuring, whether it be Reach (total # of people), Website Visits, or Engagement Rate (how well you are connecting with the audience.)
The plan tells you what you are going to do in order to make progress toward your goal. Plans are not concrete. You need to look at your metrics and determine what's working and what's not. If necessary, you change the tactics but the overall goal and strategy should rarely change.
How do you know if you will reach your intended destination if you don't have a GPS or a map?
Completing the One-Page Social Media Plan Template
This is an abbreviated plan because it's important to take action. We can analyze all day! It should take you about an hour to complete. Here is a breakdown of each section. Your company name goes at the top; self-explanatory.
Your Purpose for Using Social Media:
Why do you want to have a presence on social media?
What do you hope to achieve by using social media?
Is there anything that you have done in the past that you would like to replicate?
Who are you trying to reach?
What are the demographics?
What do they like/dislike?
Who is definitely NOT a good customer for you?
What social media channels did you choose?
Why did you choose these channels?
Do they align with the demographics of your target client?
Do you or your team member have a thorough understanding of this channel?
What is your goal for each channel?
Is it different for each platform?
Do you have a specific number of followers or reach that you would like to achieve each week, month, or quarter?
Do you know what platform features work best to achieve the goal you mentioned above?
What are your competitors doing?
Look at THREE of your biggest competitors' social media presence and write down any key takeaways.
What do you like/dislike about what they are doing?
What can you do differently or better?
What are your partners and vendors doing?
List all of their handles so that you can follow their accounts.
What do you like/dislike about what they are doing?
Can you share their content with your audience? (They might return the favor, which maximizes your reach!)
How many times will you post per week?
What is your goal as far as content to share per channel per week? This is important because your analytics need reliable data in order for you to make data-based decisions.
Who will be responsible for posting this content?
Who will be responsible for engaging with other accounts and responding to comments?
What other features will you use?
List all of the options for posting on the platform(s) you chose.
How will you differentiate which type of content goes where? Ex. "Stories will be real-time behind-the-scenes at least twice per week."
Who will be responsible for this content?
What is the action that you would like the audience to take?
Write down the main call-to-action that you will be using in posts. It should align with your goal for each channel. Ex. Goal: Website Traffic, CTA: Visit Our Website. Grab one from this list of our favorite call-to-actions.
Is there a secondary action? (Ex. Follow us for more…)
Is there a third action? (Ex. Like or comment.)
How will you measure success?
What metrics are important for you to measure? Ex. Clicks to the website from social media
What other metrics would you like to see? Ex. A steady increase in our following
What can be ignored? Ex. The number of direct messages we receive.
Watch the Video Explainer
Conclusion
The One-Page Social Media Plan Template provides an overview of your approach to social media so that you can measure your progress. Join our Facebook Group, The Credible Brand: Online Marketing for Service-Based Businesses, if you have any questions while you're completing yours. We'd love to hear from you.
Work with us. We offer packages for social media and content marketing that will elevate your business. Apply for your free call with Lindsey to determine if we're a good fit.