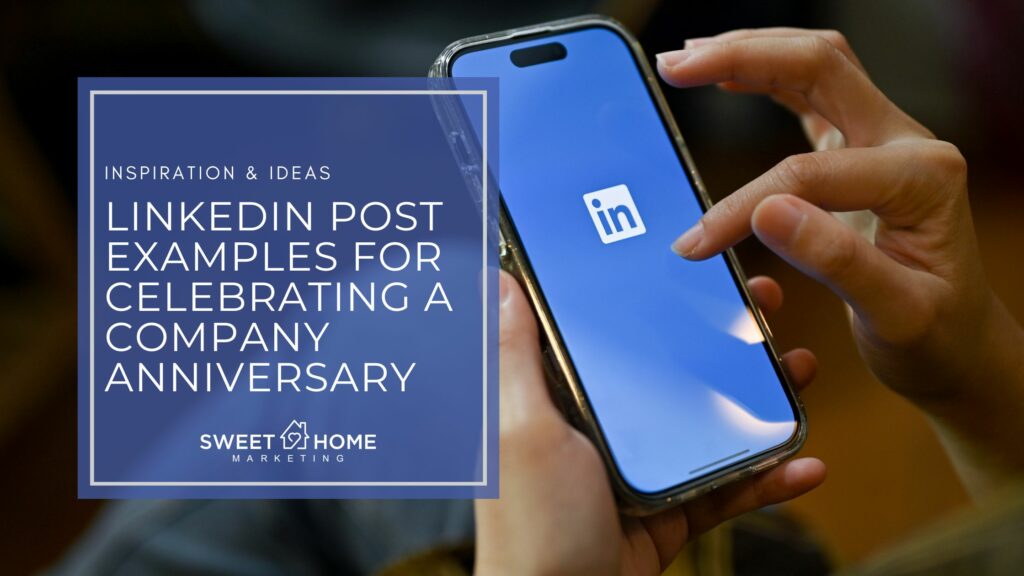 Are you wondering how to commemorate your company's upcoming anniversary on LinkedIn? Sharing a celebratory post is a great way to engage with both current and potential customers, as well as other business contacts. Whether it's the first year of operation or the fiftieth, creating a memorable LinkedIn post for the occasion can be an effective marketing tool for any organization. Below are some ideas for crafting an inspiring and engaging anniversary LinkedIn post that will generate engagement from your network. But first, three tips for generating the most visibility with your company anniversary post on LinkedIn!
[Related Reading:
Company Anniversary Post Ideas for Social Media
]
3 Tips for Generating the Most Reach with a Company Anniversary Post
Tip #1 – Increase visibility by posting on your company page AND your personal profile.
There are benefits to posting on both your LinkedIn personal profile and company page. Your personal profile should be used for networking and building relationships, while your company page should be used to share news and updates about your business. Since a company anniversary – especially if it's your business – falls under both of these categories, share the news on both accounts!
You can post the same content on both your personal profile and company page, but you should tailor it to suit each audience. For example, speaking in first person on your personal profile's post makes sense, but it probably isn't a good fit for your company page.
Tip #2 – Boost engagement by incorporating qualities from the most popular types of posts.
Learn from the posts that are generating the most engagement on LinkedIn! You'll see better engagement and therefore, more reach for your company anniversary post.
Here are a few ideas:
"Top 10" List: What are your top 10 lessons learned since you started the company?
How-to or Tutorial: Create a "how-to" post based on an insight that you know now and wish you knew sooner.
An Interview: How about a short video covering your company anniversary and what it means to you?
Behind-the-Scenes: If you're throwing an anniversary party or doing a photoshoot, share the behind-the-scenes visuals.
Expert Roundup: Grab another business owner that is celebrating an anniversary and craft a post of your entrepreneurial expertise.
Case Study: Over the years that you've been in business, what's a story that provides a perfect example of why you love your work?
For more suggestions, check out this article from Social Media Today.
Tip #3 – Be authentic with your copy and your imagery.
The first draft of your post will be bad. Don't use it. Trust me. You'll initially write something like "what a wild ride," "I never thought I would have made it this far," or "thanks for believing in me" because that is what kicks off your thinking. Keep writing to get to the really good stuff!
Additionally, stay away from stock photography of a cake (predictable) or of corporate smiles (phony). It contradicts your genuine message. A photo of yourself or your team is perfect, or…you don't have to use an image at all!
[Related Reading:
Social Media Post Ideas that Humanize Your Company
]
The Inspiration: Company Anniversary LinkedIn Post Examples
Sharing company anniversary posts via LinkedIn helps build awareness of your brand and can also help generate valuable new connections over time. To get you started in crafting an effective company anniversary post for LinkedIn, here are several inspirational examples from different businesses.
Take a Photo Specifically for the Occasion: In this example, the business owner shared a photo of herself with a number "2" balloon to announce the 2-year company anniversary. She also dropped some stats and tied in her own goal of becoming one of the 2% of women-owned businesses to break the $1 million mark. See the original post here.
2. Use a candid shot of the team and a summary of your progress. The CEO/Founder of VizyPay used the 5-year anniversary as an opportunity to reiterate the company's vision and values. They also included a link to a full press release, which is a great idea for maximizing visibility.
3. Post on your company page and then go deep on your personal profile. When Connections Consulting Partners celebrated their first year, owner Kate Lewis posted the announcement on her company's LinkedIn page and then shared the personal details on her own account. We cannot share her personal post due to her privacy settings, however here is the company post for reference. (Notice how she tagged herself as an "FYI" to her audience. Great idea!)
4. Have the story speak for itself. Patrick Murray celebrated his 6-year milestone with On Air Parking and he has a killer LinkedIn post to prove it. He starts by tagging his business partner, increasing the reach of the post. Then he talks about his first failure, which is fascinating to anyone who thinks growing a business is always easy. He ends the post with some stats and a word of encouragement.
5. Tell the long version of your story and use emojis to break up the text. Brian J. Olds, CEO of Black Speakers Network, celebrated his anniversary of leaving corporate America and becoming a full-time entrepreneur with a long-winded post that was widely celebrated.
Conclusion
Commemorating your company's anniversary is a wonderful way to gain visibility by sharing a celebrating a milestone with your followers and connections. By using these company anniversary LinkedIn post examples as inspiration, you can ensure that your celebratory LinkedIn post generates maximum visibility and engagement. And if you need help brainstorming or creating content for your special posts, we're always here to help!
Join The Credible Brand Facebook Community for help crafting your post or schedule a free consultation if you'd like us to help you develop a bigger celebratory campaign. Let us help you celebrate your company's big day!