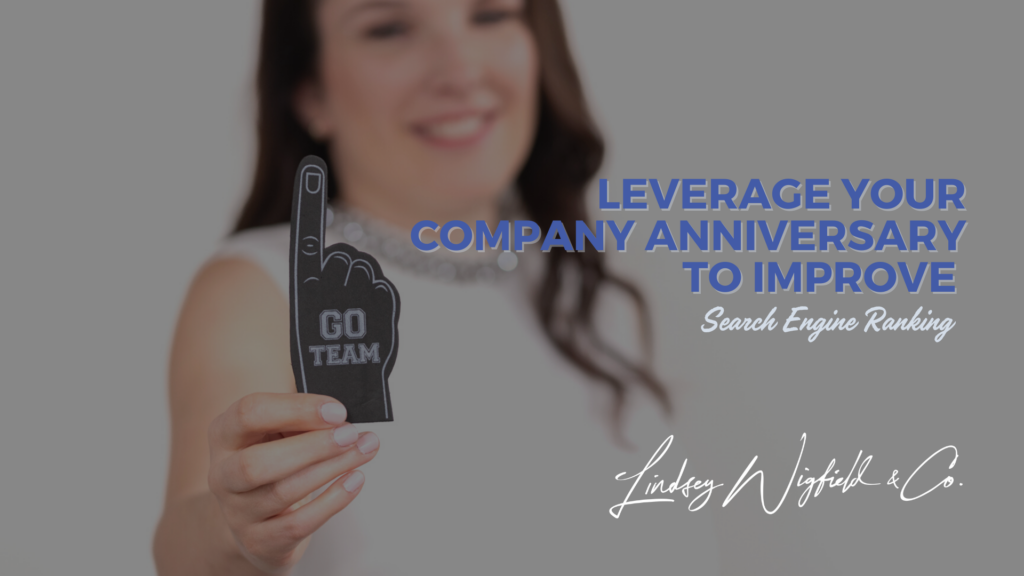 Recently on The Credible Brand Podcast, I talked about how you can use your business anniversary to boost your company's search engine ranking. That's right; you can leverage your company anniversary for search engine optimization. Here's a quick look into what we covered during the podcast and how celebrating this important event can help.
4 Ways to Boost Search Results
When someone reaches a significant milestone like a birthday or anniversary, it's customary to show them extra support and recognition. Your business is no different. Your shareholders, partners, customers, family, and friends all want to join in celebrating this occasion with you. It can be as easy as clicking a like button, leaving a congratulatory comment, or even celebrating together, whether in person or online. All you need to do is provide them with the opportunity to do so.
Boost your business' search ranking and generate brand awareness by strategically planning and executing a company anniversary campaign. Whether it's your first or fiftieth anniversary, follow this advice to maximize growth and celebrate your milestone event. Check out this list of four search engine optimization (SEO) activities to ensure you get the most traction from your efforts.
Create a dedicated landing page for all your company anniversary content.
What are you doing to celebrate the anniversary? Put it on a single dedicated page on your website. Link all content that is related to your anniversary to that page, have any ads direct to that page, and include all of your events or promotions on that page. Make sure the URL is easy to remember. Set up Google Analytics or another analytics tool so that you can track your traffic once the page is discovered. This allows you to track the efficacy of your efforts. The beauty of a dedicated landing page is that search engines can rank the page for additional keywords and people can go straight to the source for the information they need.
Research and reach out for backlink opportunities.
A backlink is a link on another website that goes directly to your website. Think of it as a "pat on the back" from another site; they are recommending your site for some reason. Leveraging your company anniversary plans are a great way to build backlinks to your website. If you are having a public event, you can promote that event on community calendars in your area. For example, your local Chamber of Commerce might have a "calendar of events" on their website and your event can be listed there. You can also reach out to relevant bloggers and publications in your area. All of these backlinks should lead to the aforementioned landing page you set up. Hosting a simple public event, such as a small party, open house, or similar activity also allows you to meet new people outside your existing clientele which is always a plus.
Create featured articles using popular search phrases.
This is a big one. A company anniversary allows you to talk about your experience and value proposition without too sounding sales-focused. You can be proud of your achievement and use the opportunity to educate the audience on what you do differently from the competition. Here's my secret: Use the SEMRush Keyword Tool to find keywords based on your service or offering. Browse the list and write down any adjectives that jump out at you. Then write those keywords into your content. For example, you might find "reliable plumber" is a popular search. Write a blog article on Celebrating 10 Years of Reliable Plumbing Services to incorporate a version of this keyword. For a 14-day free pro trial of SEMRush, please use my affiliate link here.
Leverage your anniversary to request reviews.
Google ranks businesses locally based on three categories: distance, relevance, and prominence. Review score (how many stars you have) and count (how many reviews you have) are included in that last category, prominence. Therefore, using sending out an email campaign that contains a direct link to leaving your company a review can help you improve your rankings. This step gives you an extra bonus of being able to repurpose those reviews in testimonials or social media content.
Conclusion
There are many ways to leverage your company anniversary for better search engine results. These four ways – creating a dedicated landing page, building backlinks, creating articles around key search phrases, and asking for reviews – are the easiest ways to give your business a boost during this celebratory time.
How would it feel to have a campaign planner on your team? Book a 15-minute discovery call with me to see if we're a good fit.