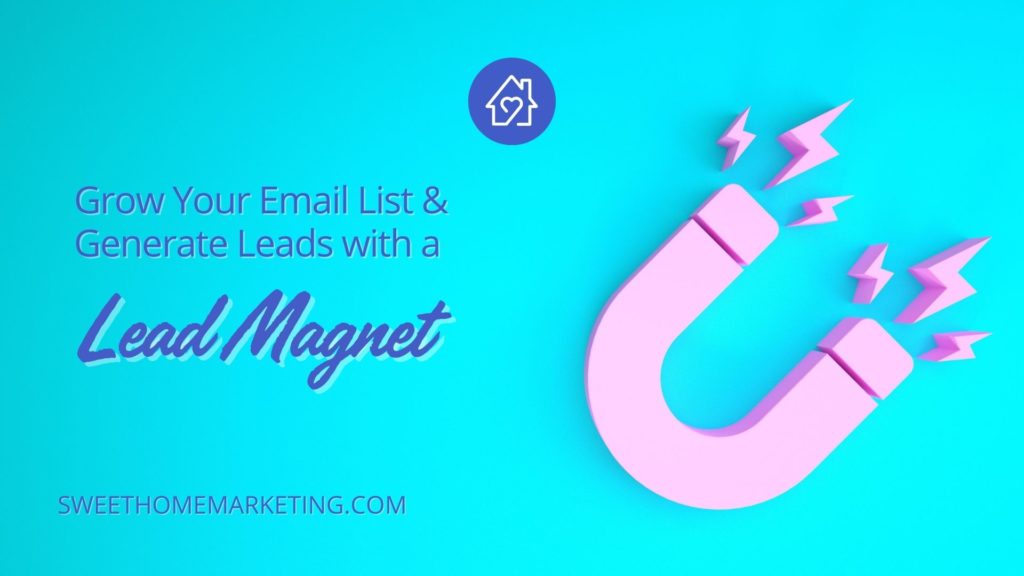 A lead magnet is an incentive for website visitors to enter their email address in exchange for a freebie. They work best when you create something that resonates with your ideal client and gives them a quick win. For example, our lead magnet is the One-Page Social Media Plan. This is something specific that we know our ideal client is interested in accomplishing because being more strategic often means more sales. By downloading this guide, they can create a plan that saves them time and helps them use social media effectively for their business.
What is a lead magnet?
A lead magnet is also referred to as a free resource or guide, that is available on your website for free download in exchange for an email address and other information. It helps grow your email list because it is an enticing offer for the right people.
Instead of "Join our email list," a website visitor would see, "Grab Your Free Guide to 101 Best Family-Friendly Things to Do in Frederick, MD."
What kind of business benefits the most from a lead magnet?
A lead magnet can work for almost any business. If your goal is to grow your email list or generate leads, then there's no doubt about it. You need a lead magnet.
The lead magnet works extremely well for service-based businesses because you are providing a tangible result that can only be achieved by the expert advice found in the free resource. After they've consumed your lead magnet, they perceive you as a more credible business.
When done right, the lead magnet attracts the right clients for you. In it, you'll want to creatively work into the copy a few of your key differentiators (i.e. why are you different from a competitor) and mention the other services you provide. These are key ingredients to turning lead magnet downloaders into paying clients.
Examples of Lead Magnets
To get your creative juices flowing, here are some ideas for lead magnets and the business that would be most relevant for them.
Cosmetic Surgeon: 9 Procedures that Will Take 20+ Years off Your Face
You can see how the cosmetic surgeon is providing information that the audience probably doesn't know. The audience would know that they want to look younger but not what procedures are available. This is a great way to explain the services that are available and what a patient can expect from such a procedure.
Real Estate Agency: The Ultimate Guide to Communities in <Your Location>
Real estate agents need to keep it local when it comes to their lead magnet. Otherwise, you will never grow a list of leads because they might live too far away. This real estate agent knows that her ideal client is looking to move into the area but doesn't know where to focus their search. This guide lists all of the communities in the area and amenities like an HOA with a pool. (Note: the real estate agent is responsible for making sure the lead magnet follows all laws regarding fair housing.)
Dairy Farm: How to Create a Breathtakingly Beautiful Charcuterie Board
A dairy farm might decide that they want to start selling their cheeses directly to consumers. In this lead magnet, the website visitor can download a free guide that helps them create a beautiful charcuterie board with some of the products that are available through the dairy farm. This is a great opportunity to showcase the more niche cheeses – like whiskey cheddar or cranberry cinnamon goat cheese.
Website Agency: Fix These 5 Common Website Mistakes that are Costing You Sales
By emphasizing the importance of a well-designed website, this agency is positioning itself as the expert in designing a site that converts visitors to customers. These fixes are temporary, and the website agency can use the free resource as an opportunity to explain how website design has changed over the years and the importance of a new website.
Wedding Event Planning Company: <Your Location> Wedding Location Evaluation Template – 45 Venues Included!
Much like real estate agencies, an event planning company needs to make sure they are focused on acquiring local results. Otherwise, the folks who download the guide will never become paying clients. This free template lists all of the possible wedding locations in the county with a short blurb about each venue, saving brides precious time creating their own list. The template also includes an evaluation section where the bride and groom can rate their top 5 choices on a scale of 1-10, estimate the cost, and ultimately make the right decision for their location.
As you can see, there are many different ways that a lead magnet can be used to generate leads for your business. As a content expert, I'd love to help you create a valuable and enticing resource.
Conclusion
We love strategizing and creating lead magnets that generate leads for our clients. If you're ready to work with us, book a free 30-minute consultation so that we can take the next steps in moving your business forward.