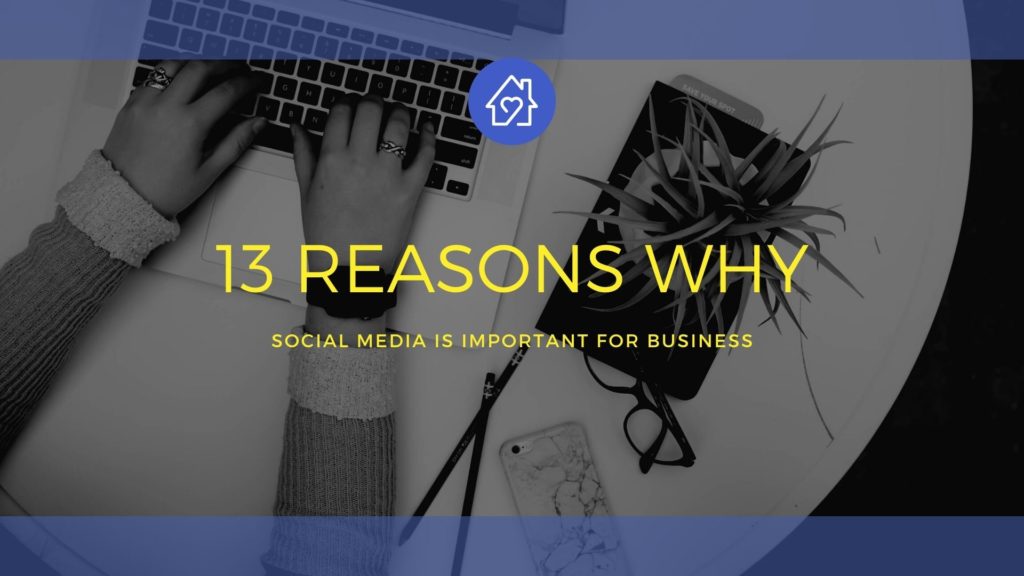 Social media marketing is important for your business because it puts you directly in front of your customers. About 72% of Americans use some type of social media (Pew Research). The average amount of time spent on social media per day is 2 hours and 22 minutes (Review42). That provides ample opportunity for any business to engage with potential customers in a friendly way.
Why is social media marketing so important?
Yes, there is a small chance that your business doesn't need social media. If you are not interested in growing any further or you have more clients than you can handle right now, then you probably don't need to invest in social media marketing. (If this is you, keep in mind that it takes a while to build a following on social media. It's not a faucet that can be turned on as soon as you need a new stream of clients.)
Chances are that you could benefit from social media marketing. Here are a few reasons why it's important for business.
You are where your customers are. Having a presence on social media channels where your customers are will help you reach more people just like them. That means more business for you.
You can listen to feedback. Reading what other people are saying about your business is beneficial. If it's negative, it will help you understand where there's room for improvement. Positive feedback tells you what people care about the most. You can use that information to your advantage in other marketing efforts.
You can grow your business using social media. We've seen some businesses have success using Facebook as their only marketing tool. (We don't recommend that approach but it's possible!)
Your company can be found more easily. Google might be the largest search engine, but it's not the only search engine. People are increasingly using social media to find their next accountant, plastic surgeon, or lawyer.
Your company can generate referrals quickly. If you have a presence on a social media platform such as Facebook, it's easier for your happy customers to tag you in posts where someone is searching for your services.
You can educate your audience. People don't know what they don't know. When a pediatric doctor's office posts information about "Finding and Evaluating Your Perfect Pediatrician," you provide guidance to those who don't know what they should be looking for in a pediatric office.
You can show that you are friendly, knowledgeable, and approachable. Share a favorite photo with your family and tie it to your business in some way. For example, a financial advisor can share a photo of herself in a challenging yoga position and explain that getting out of your comfort zone is how you achieve unbelievable results. This takes a personal interest (yoga) and uses it as inspiration to get her followers to take action.
You can recruit more candidates. You can post job opportunities on Facebook or share them on a wide range of other social media channels. By widening your net, you're able to catch more folks who want to apply to your position.
You can amplify what you're doing for the community. Social media is a great way to show how you're helping transform the community for the better. Sharing any sponsorships, donations, or volunteer efforts will position your business in a positive light.
You can promote your business. While we don't recommend having a sales pitch in every social media post, you do need to tell your customers how they can work with you.
You can drive traffic to your website. For many service-based businesses, potential customers need to conduct research before making a decision about who to hire. Your website should provide all the information they need to make the right choice. All you have to do is direct them to it.
You can keep people engaged and excited while they wait. Imagine you're booked out for a month or even longer. That can be a turnoff to some people, but you can use your social media channels to keep them excited about their upcoming appointment.
You can provide excellent customer service. When a potential client messages the business after hours or on the weekend, someone from the company can respond. There have been several times where I've been able to quickly answer someone's question and as a result, I booked an appointment on behalf of my clients.
Conclusion
There are many reasons why social media marketing is important for business. The biggest advantage is that you're able to put your business in front of existing and potential clients. This increases the visibility of your business and helps more people become aware of your services. Read more about the benefits of social media marketing for business here.
Join our free Facebook Group, Million-Dollar Marketing Strategies, where you'll discover how to attract customers and produce consistent leads for your business.