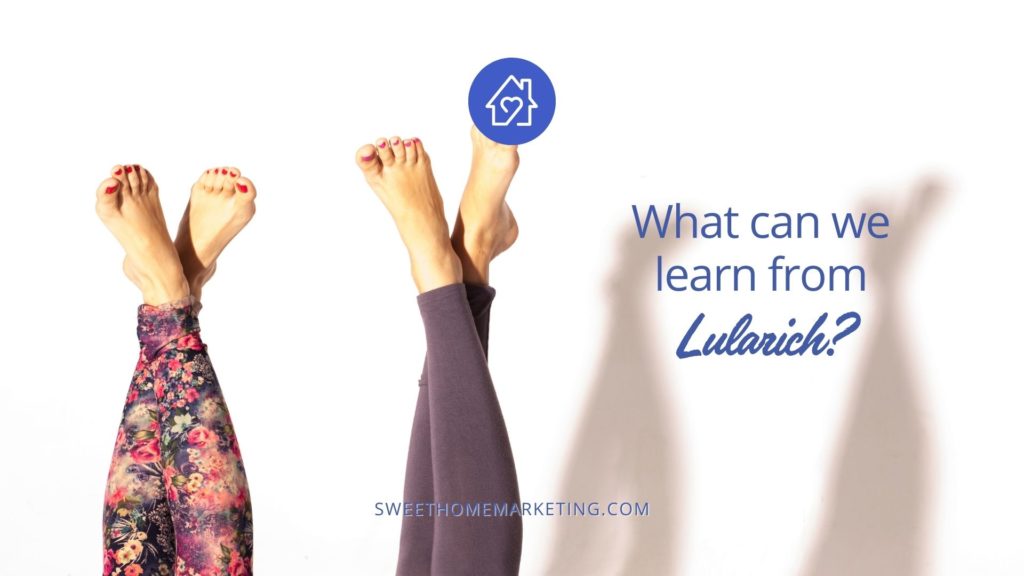 Lularich is an Amazon prime docuseries that covers the rise of the company Lularoe and the problems they've had along the way. Lularoe is a clothing brand that was launched in 2013 by Mark and Deanne Stidham. They were best known for their buttery soft leggings that had unusual — and often loud — patterns. In this article, we'll touch on five tips that we can learn from this docuseries and how you can apply them to your own businesses.
Disclaimer: This post is meant for entertainment purposes only. I do not support or condemn MLM (multi-level marketing) programs. Additionally, the production company that creates these programs do not always provide the full story. They have their own business goals that include things like more viewers or buzz, which means stirring up controversy wherever they can.
Marketing Lessons Learned from Lularich
The best ideas can come out of nowhere.
Several times during the series, Deanne makes it sound as if she was just "hit" with an idea that she chose to implement and it happened to leap her business forward. (For example, the thought of selling clothes to retailers and having them resell the items.) It's hard to believe that this was the case for every story she told (frankly, she implied this a LOT), but the takeaway is that your best ideas might come when you least expect them.
If you're stuck thinking about a certain problem with your business, take a break. Talk to people, explore nature, try something new, or get out of your comfort zone. These activities can get your brain thinking differently about a problem. The solution might be one "salsa dancing" class away.
Facebook and Instagram Lives work wonders.
People, a.k.a. potential customers love to see who they will be working with. They like to get to know you and feel like they can trust you. Lularoe's independent retailers would start broadcasting live when they were opening the box of inventory that came in the mail that day. They would show all the patterns and encourage viewers to reserve the item if they wanted it. How can this apply to service-based businesses? Potential customers still want to get to know you before they decide to work with you. It might be even more important since your service is based on your expertise. They want to know that you are truly an expert and can be trusted. Create a plan for Facebook or Instagram Lives. (We can help you!) Without a doubt, you'll see an increase in the visibility of your social media channels.
[Related Reading:
How to Effectively Market Your Business on Facebook
]
Create a variety of product offerings.
This can be a pro or a con. You don't want to have an enormous product line that you cannot scale. However, I'm talking about how Lularoe once focused on leggings and had hundreds of patterns of those leggings. (Also not saying you need hundreds of offerings!) All I'm saying is, think about different ways you can package your services. Someone might be interested in only one piece of your package…can you sell that separately? Could you create a guide showing them how to do it themselves? Think about how you can take your expertise and turn it into sellable offerings.
Keep your product high quality.
Don't let success sacrifice the quality of your product or service. As Lularoe grew, there were numerous complaints that the quality of the clothing had diminished. To make matters worse, the company would argue with independent retailers instead of refunding them for faulty items. To prevent this from happening to you, be prepared for growth and ensure that you can provide the same high-quality service to every new customer. You may need to implement a waitlist or book appointments several months in advance.
[Related Reading:
Why You Need to Run Your Business with Integrity at All Times
]
Motivate your employees and they'll be your biggest cheerleaders.
The company events that Lularoe hosted seemed more like a party. Perhaps it was partially due to the way the documentary was framed, but it's hard to think of anything less than an over-the-top celebration when stars like Mario Lopez or Kelly Clarkson are involved. This annual event got independent retailers excited to be a part of Lularoe. How can you get your employees excited about your business?
Conclusion
The Lularich docuseries doesn't paint Lularoe in the best of light, but that doesn't mean they are all bad. We can learn a lot from their rise to fame and the mistakes made along the way. Be open to new ideas and experiment with live videos on your social media channels. Think about expanding your service offerings or creating products based on your service and expertise. As you grow, make sure that you maintain a high level of quality and that you motivate your employees so that they become your biggest cheerleaders.
Join our Facebook group, The Credible Brand: Online Marketing for Service-Based Businesses, for more insights and to get any questions answered. We look forward to seeing you in the group!