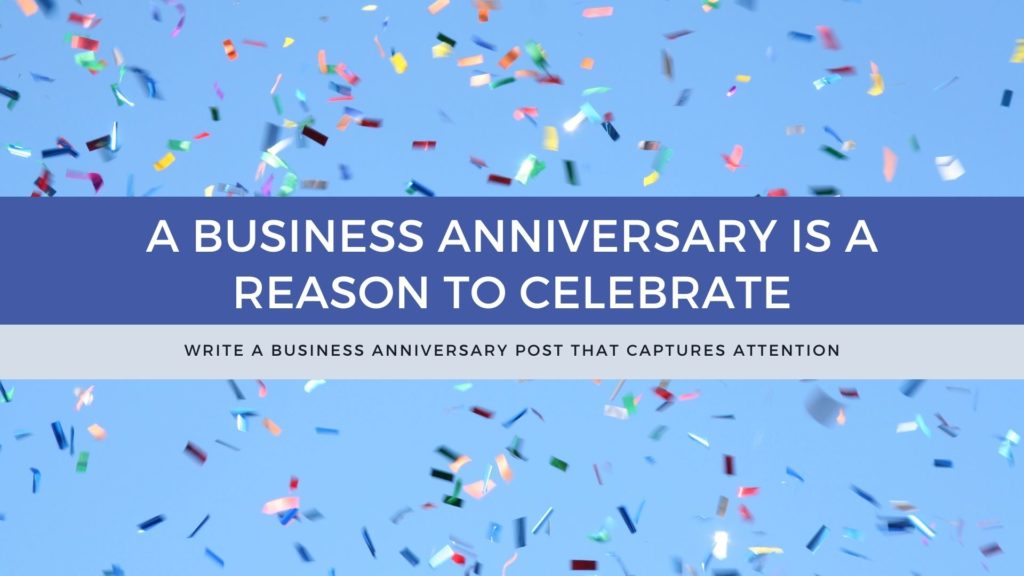 Without a doubt, writing a business anniversary post is an important task. It's a way to commemorate the milestone and reflect on how far you've come. But it can be tricky to know where to start. Here are some tips to help you get started.
Tips for Creating Business Anniversary Posts
First, take some time to think about what you want to say. What were the biggest challenges and successes your business has experienced over the past year or since the beginning of your business? What have you learned from them? Try to be specific and give examples whenever possible. These are the stories that capture attention and let your audience get to know you better.
Second, think about how you can take your message and make it visual. For example, if you are telling a story about when you started the business, can you find a photo to include with the post? One of my clients is celebrating their 30-year anniversary and we found their first print advertisement to include in communications.
If you can't think of something visual to include, then create it. [Read our blog article on examples of company anniversary posts.] Here are a few ideas that you can use to create visual content for your social media channels.
Confetti: Throw confetti, flower petals, or something related to your business. (Ex. A bakery could throw chocolate chips.) Ask someone to snap a few photos. Use the Momento app to change it into a GIF.
Cake: Order a cake from a local bakery, add a number candle with your anniversary year, and blow out the candles. This works well as a gif, photo, or even a video!
Team Meal: Provide breakfast or lunch for your team. Let them get in on the celebration. Be sure to tag the restaurant so that you can reach more people.
Surprise Employees: Pop a confetti cannon on an unsuspecting soul and record the reaction. (Choose someone who will love it.)
Give a Gift: It doesn't have to have your logo on it but it would make sense given the occasion. Have someone take photos of the gift itself and of your team's reactions.
Take a Team Photo: This is necessary even if you aren't sharing it on social media. You'll want to remember who was with you on this special day and relive the moment in the future.
Give Back: Donate a day of your team's time to a local charity. It'll be a team-building experience and you'll be able to take photos while they work.
Tips on Writing Business Anniversary Captions
Writer's block happens to the best of us. It can be hard to talk about our business because we don't want to sound as if we're bragging. On the other hand, we're really proud of how far we've come. Here are a few ideas for what to include in the caption of the post.
Thank your team for their hard work. Sincere gratitude will motivate your team and demonstrates that you understand how much they contributed.
Thank your customers for their support. It's always a great idea to remember that your customers are the ones who have helped you get this far. You can include partners or vendors here as well.
Reflect on the past year. What sticks out to you? What went well? What didn't? Did you accomplish your annual goals? If so, consider mentioning those goals and what it feels like to have reached them.
Share your plans for the future. Your employees, customers, and partners want to be included and understand your vision. Could you tease a new product or service that will be released soon? Do you see yourself adding more employees? Is there a dream that you want to accomplish?
Offer a sale or discount to commemorate the anniversary. The key is to keep this a limited-time sale so that you don't devalue your offerings. Encourage customers to act fast and you can leverage your business anniversary to acquire additional revenue.
Encourage readers to continue supporting you in the future. Tell them why they should continue supporting your business. This is an opportunity to disclose something that you don't normally discuss. For example, if you are a family-run business, 95% of your employees live in Frederick, or you give back 10% of profits to a local non-profit.
Conclusion
A business anniversary is a reason to celebrate! Consider these tips and create social media content that captures your audience's attention. If you are looking for feedback or input, join The Credible Brand Facebook Community where you can use the members as a sounding board for your ideas.