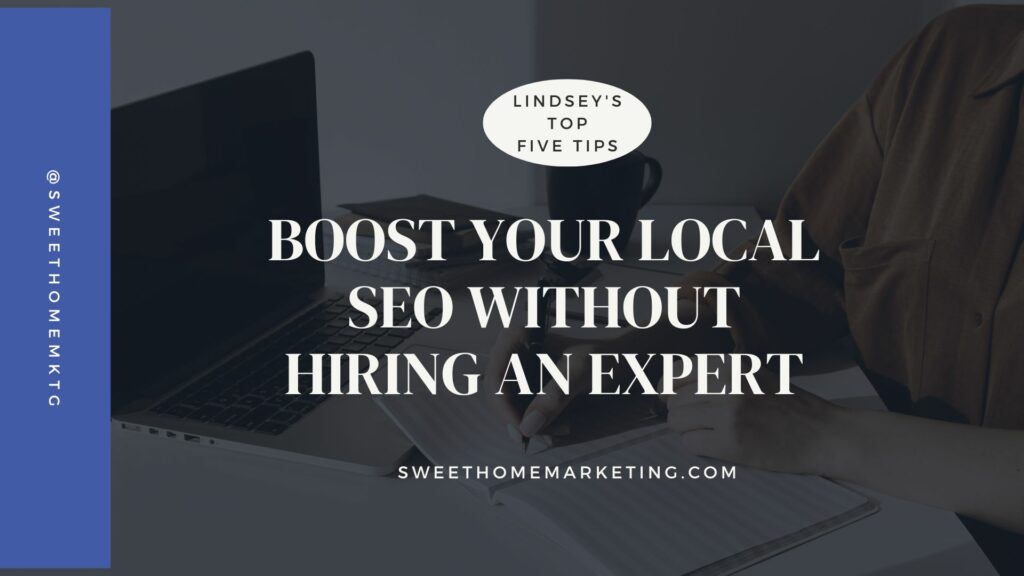 Local SEO is a critical factor when it comes to the success of your business. Not only do you need to ensure that your website is optimized for local search, but you also need to make sure that your online presence is consistent across all directories and platforms.
Most businesses don't have the time or resources to manage their own local SEO, which is why hiring an expert can be a great solution. (Hint: Lindsey is Local SEO Certified! Book a free call with her to discuss how we can help you rank in local search.)
There are some things you can do on your own to boost your local SEO without hiring an expert. Here are five tips that can help get you started.
[Related Reading:
The Components of SEO that You Should Know
]
Here's How You Can Give Your Local SEO a Boost
#1 – Getting More Reviews.
A steady stream of reviews tells Google that customers are continuing to experience your products and services, which helps you stay relevant. Make it easy for customers to leave a review by sending an email with a link to review sites like Google, Yelp, and Bing.
#2 – Responding to All Reviews.
Reply to positive and negative reviews in a timely manner. Make sure to leave a custom message so that readers know the comment is authentic.
#3 – Claiming (and Completing) Your Google Business Profile.
This is the best way to ensure that your information is correct in the place it needs to be the most. Over half of Google searches end without a click-through. That means customers are finding your phone number, hours of operation, and more just through the initial search.
#4 – Posting Updates on Your Google Business Profile.
When customers are looking for you, they might choose to browse the recent posts on your profile to see if something sparks their interest. These promotional updates (like a 10% off Labor Day Sale) can motivate the person to visit your business.
#5 – Acquiring Backlinks from Sponsorships and Memberships.
Make the most of your sponsorships and memberships by asking those organizations to link from their website to yours. The Frederick Chamber of Commerce is a great example of a local organization where members can obtain a directory listing.
[Related Reading:
What I Wish Everyone Knew About Blogging for Business
]
Conclusion
If you're looking to give your local SEO a boost, try implementing some of the tips we've shared! Getting more reviews, replying to all reviews, claiming and completing your Google business Profile, posting updates on your Google Business Profile, and acquiring backlinks from sponsorships and memberships are all great ways to improve your local SEO ranking. And if you need help getting started or want an annual SEO plan tailored specifically for your company, please don't hesitate to book a call with Lindsey today. Thank you for reading!
Join The Credible Brand Facebook Community for weekly tips and tricks on how to improve your digital marketing.