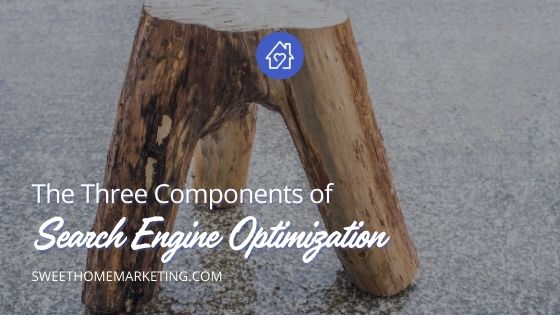 There are three main components to search engine optimization (SEO): Technical SEO, On-Page SEO, and Off-Site SEO. It's important to understand these terms because the agency that you choose to support your business may specialize in only one of these components. Like a three-legged stool, if two of the legs are broken off, then how well does it actually work?
If ranking higher in search engine results is important to you, find an agency that is able to improve each of these SEO components. We're able to assess your website in 15 minutes or less and determine if we can help. Click here to contact us.
Three Components of SEO
Technical SEO
The purpose of technical SEO is to help crawlers find and index your website. A faster loading speed, optimizing images, and fixing broken links are examples of technical SEO. When we conduct an initial site audit, oftentimes a lot of issues show up that need to be addressed. As time goes on and we knock out these issues, new ones occasionally creep up. Technical SEO is an ongoing process, just like the other components of SEO. It's not a "fix it and forget it" type of thing.
On-Page SEO
This is my favorite part of SEO because it involves content creation. You start with understanding your ideal client and what type of information they would be searching for, then dive into keyword research, then tie those keywords to your existing web pages. If you don't have pages for some keywords that you'd like to rank for, you can add them to your list for future blog post topics. Having a company blog means that your business will have more opportunities to rank in search results. Parts of on-page SEO may overlap with technical SEO, which is why it's important to have a content marketer who understands the basic principles of SEO.
Off-Page (or Off-Site) SEO
This refers to activities that take place off your website to help improve your ranking in search engine results. The most familiar example is backlinks. Backlinks are when another website links to a page on your website for reference. Search engines interpret these links to your site as a sign of credibility. In order to generate backlinks, you have to be intentional with your content and create a strategy for acquiring them. We've been told recently that backlinks don't matter nearly as much as we think, so focus on generating high-quality backlinks from reputable sites that are within your industry or area of expertise.
Conclusion
This was a brief overview of the three components of search engine optimization: technical SEO, on-page SEO, and off-site SEO. When you have a basic understanding of the components that go into search engine optimization, you are able to identify what your business needs in order to rank higher in search results. Ranking higher in search results means more clicks to your website and more leads for your sales team. That sounds pretty good to me!
If you have any questions on this topic, join the Million-Dollar Marketing Strategies Facebook Group and ask away! In this private group, I'll show you how to create a Million Dollar Marketing Strategy that attracts customers and produces consistent leads for your business.