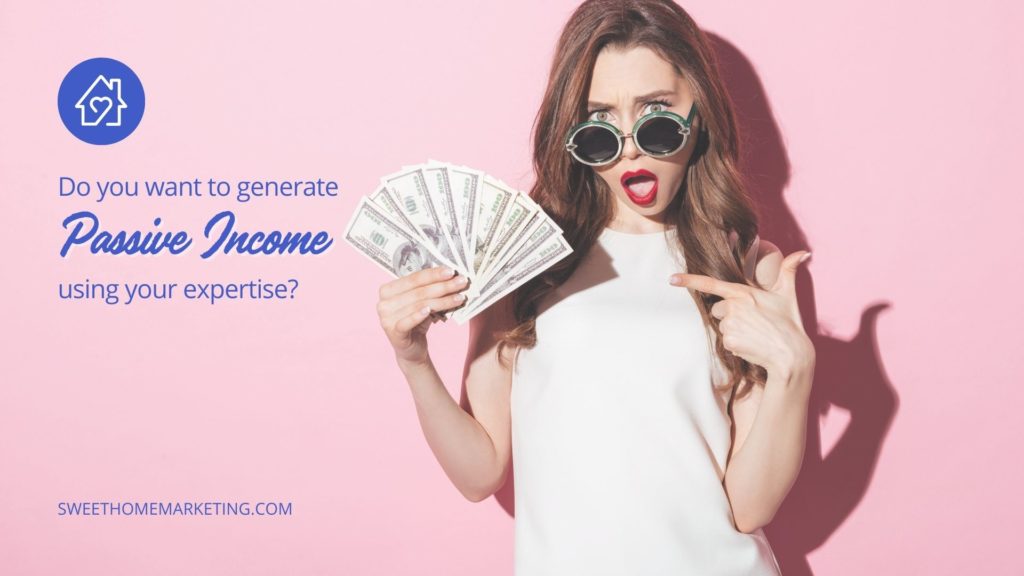 There are a variety of options when it comes to turning your expertise into passive income. What is passive income? It's revenue that is derived from something where there is minimal involvement.
For example, if you are creating a digital product like a course, you are spending a lot of time upfront to build that product. After it's launched, you will have to do some updates to it every once in a while but the biggest chunk of the work is complete. That means you can promote and sell the digital product without a lot of additional work.
Ideas for for Passive Income
A digital product is an additional income stream for your business. It also allows you to serve more people by helping them accomplish a specific goal. Which one of these sounds like a good fit for you?
Write an eBook
As a service provider – in almost any industry – you have knowledge that is valuable to other people. Many of those people may be willing to pay for information that you have. One way to share it is by writing an eBook. Spend time writing something of high quality that you can then sell over and over again to continue to earn money for years to come.
Create a Course
Some business owners find it valuable to create a course that provides specific, step-by-step information about how to accomplish something. Today, many people need to learn skills without having to go to school to do so. Creating a course – on anything that you are skilled at that other people want to learn – is one of the best ways to create passive income. Share your knowledge through a recorded video course, for example.
Monetize Your Blog
If you are a business owner or service provider that has insights and information to share with the public, create a blog to share that information. Instead of charging for the information, build up a following through social media and SEO rankings. Then, monetize your blog, or use ads to help draw people in through numerous methods. You'll continue to earn money as long as people visit your website and click on those ads.
Affiliate Marketing
Affiliate marketing means that you are getting paid for recommending products or services of another business. If you are building an audience on social media or with your blog or podcast, consider affiliate marketing as an option for passive income. A great example would be promoting a special URL to your favorite company on your podcast and then you would receive a percentage of the sale when someone joins using that link.
Sponsored Posts
If you have a blog, you can charge other bloggers a fee for placing their post on your blog, in the hopes of increasing traffic to their website. You can also use sponsored posts as a way to build your traffic to your own monetized blog.
Digital Products
There are many ways you can create digital products to sell to others. Most often, these can be sold over and over again, creating a long-term passive income for you. As long as people are interested in what you have to sell, they are likely to pay a fee to access it. Choose the type of digital product right for you. Here are some examples:
Art prints
Birthday invitations and cards
Photos
Videos
Audio files
Music productions
Create a YouTube Channel
For those who love to get out in front of people to talk, share stories, and interact, a YouTube channel may make it easy to not just get started in this field but also to build a strong following. This can be a lucrative play for those who have something interesting (to someone else) to offer in terms of commentary or information.
Conclusion
There are many types of passive income options for service-based businesses. These are tools that you invest the time and money into one time and continue to earn from it on an ongoing basis. For many, this is the best route to earning a strong financial future.
We can help you create a digital product that generates ongoing revenue for your business. Apply for your free call with Lindsey using this link or contact us for more information.
Join our Facebook Group, The Credible Brand: Online Marketing for Service-Based Businesses, for more insights on how to successfully market your business.