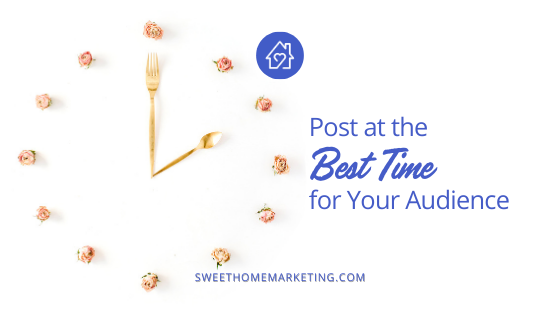 The time that you post on your Facebook Business Page can have a huge impact on the level of engagement you receive. Likes, comments, and shares all depend on your audience actually seeing your post.
That's why you want to look at your analytics to determine the time of day when your audience tends to be on the platform. Then schedule your posts to publish at that time.
What's Wrong With Generic "Best Times" Articles
There's something that burns inside of me whenever I see an article about the "best time to post on Facebook." Usually, the analysis is weak. The data used is either too broad or too specific. The author talks as if getting in front of your Facebook audience is the same for everyone. (Hint: It's not.)
Additionally, if everyone were to publish during that "best" time, guess what would happen? It wouldn't be the best time anymore! Facebook would be flooded with posts at "11 am on Tuesdays" and it's even more likely that your post will be lost in the crowd.
Why would you base your scheduling on someone else's data when you have access to your very own, right at your fingertips?
The Super Easy Way to Find Your Best Time to Post
Here is how you're able to see one week of data for your page. Your audience. That means, ignore what anyone says about the "best times to post" and create your own map.
Depending on how quickly your audience is growing, you'll want to look back at this every so often and change your scheduling accordingly. Definitely do it at least once per quarter.
This only works if you have over 100 followers, but most of you have already built a larger audience.
Go to your business page.
On the left, you should see "Insights" – click it.
On the left again, you should see "Posts" – click that option.
Hover over each day of the week and write down the time that has the highest blue. Depending on how frequently you're posting, you might want to write down the second best and third best time as well.
Translate time into your time zone. Unfortunately, this data is in Pacific time where Facebook HQ is located. You'll have to change it to your time zone for proper scheduling.
If you use a scheduling tool like Buffer, you can easily set up your days/times so that you don't have to think about it anymore. If you schedule natively on Facebook, you'll have to write down the days/times and put it somewhere you can easily reference. (In my opinion, it's worth purchasing the smallest paid plan with a scheduling tool in order to not have to think about it.)
Want to take your posts to the next level? Here's our strategy on Facebook Hashtags.
Conclusion
Posting at a time when your audience is most likely to be online means you're able to get in front of more of your fans who can like, comment, and share your post.
Your audience will grow and their behaviors will change, so be sure to check posting times often. This will ensure that you are getting the most organic reach (a.k.a free visibility) that you can.
That means fewer posts go unnoticed and you are a happy business owner. We're launching a VIP Day package that includes an entire day with yours truly. We'll dive into your current digital presence and identify opportunities, create a marketing plan that aligns with your business goals, and three months of content ideas. Complete the contact us form if you'd like to get in for the special introductory rate