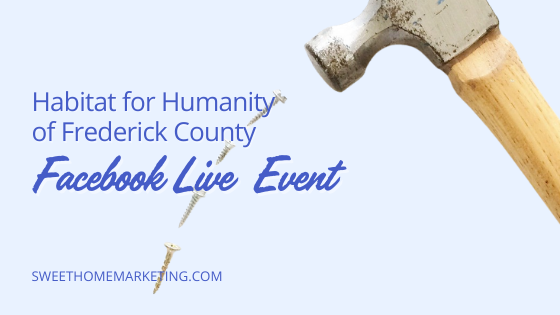 Habitat for Humanity of Frederick County is our charity of choice because they provide people in our local community a decent place to live. We were eager to pick up a hammer and to participate in the Women Build Week this year, however, it's virtual due to the pandemic. We were determined to contribute regardless.
Habitat Frederick is hosting a Facebook Live Clinic on Friday, March 12th at 12:00 pm. Construction Manager, Evan, and volunteer, Beth, will conduct a virtual construction clinic. Come learn new and useful skills, all from the comfort of your own device.
Sweet Home Marketing is donating $10 for every person who attends the event. Please join us to support affordable homeownership.
For more information about why I am especially attached to Habitat for Humanity, read this blog post from a while back. You can browse all of the information on Women Build Week 2021 here.