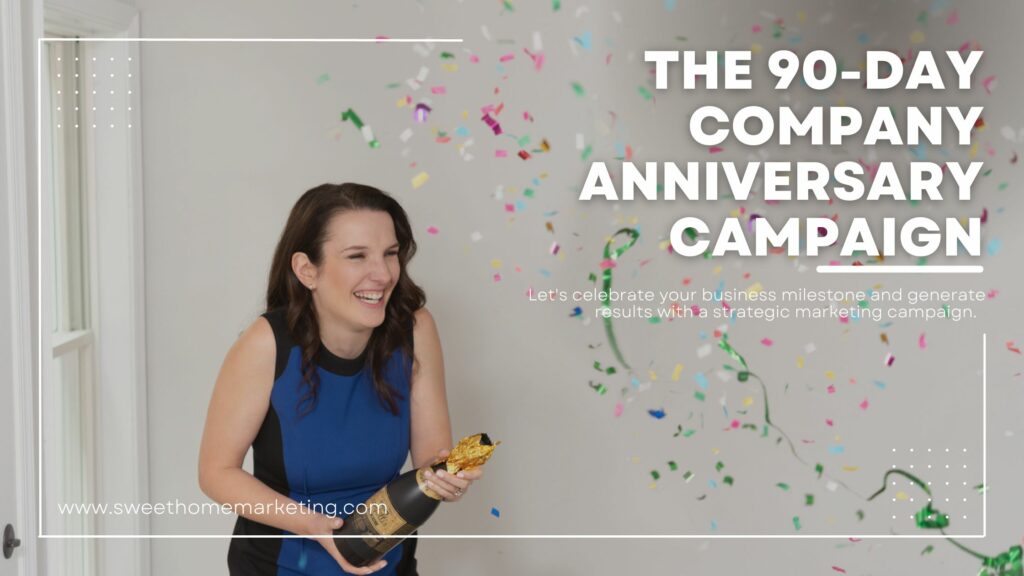 We would love to help you craft a 90-day Company Anniversary Campaign that generates results for your business.
First off, CONGRATULATIONS!
If you're thinking about an anniversary campaign, that means you're part of the:
81.6% of businesses that celebrate their 1-year anniversary
50.3% of businesses that celebrate their 5-year anniversary
Or 34.5% of businesses that celebrate 10-year anniversary and beyond!
That alone is worth celebrating! [Source]
Let Us Craft a 90-Day Anniversary Campaign for You!
Celebrate your company anniversary with the 90-Day Company Anniversary Campaign from Sweet Home Marketing. This marketing campaign helps leverage your milestone for visibility, engagement, and sales. Our team extracts the core of your brand's identity to craft an original and impactful campaign that speaks directly to your current and potential clients.
With this one-of-a-kind anniversary marketing package, your company will be commemorated in a way that builds relationships and brings attention to what makes you unique. You will also benefit from improved branding exposure and capture leads with powerful incentives.
Meeting each client's individual needs is our top priority, so rest assured that all campaigns are tailored precisely to complement your brand. Get special content like social media posts, unique graphics, stories on how you started and the milestones achieved along the way—the list goes on! Whether you want to stick with subtle and casual or creative features like giveaways and surprise discounts; this package provides just the right kind of emphasis on who you are as a business.
The 90-Day Company Anniversary Campaign gives an extra edge to set you apart from competitors while also delighting customers—what more could you ask for? With an experienced team of professionals at your disposal, let us help walk you through this journey with grace and style.
Ready to get started? Book a free call with Lindsey to discuss your upcoming company anniversary and how we can help!
Pricing starts at $2,500 for a VIP Day.
Why a Company Anniversary Campaign is Important
Your company anniversary is something unique to your business and also deeply personal. It provides an opportunity for you to humanize your company and leverage your personal relationships to increase awareness for your business.
It's perfect for the person who isn't a fan of posting selfies because it focuses on the progress of your business instead. It's an accomplishment that other people want to celebrate with you.
Benefits of a Company Anniversary Campaign
It provides an opportunity to boost sales or generate more leads.
Your customer thinks: This offer is for a limited time, so I better buy now.
It increases visibility.
Your audience thinks: Wow, they're celebrating a 5-year anniversary and I haven't been there yet! Gotta check them out.
It boosts employee morale.
Your employees think: We're excited to be employed at a company that is a fun place to work and we're eager to celebrate our hard work!
It builds vendor relationships.
Your vendors think: We're glad to be working with an established company and would like to continue to strengthen our relationship so that we can grow together.
It makes you happy. If you get excited about celebrating the milestone, that is more than enough of a reason to launch a company anniversary campaign! It's YOUR business!
Celebrate your accomplishments and cherish every opportunity to spread joy with friends, family, and business connections. Take the first step and book a call with Lindsey.